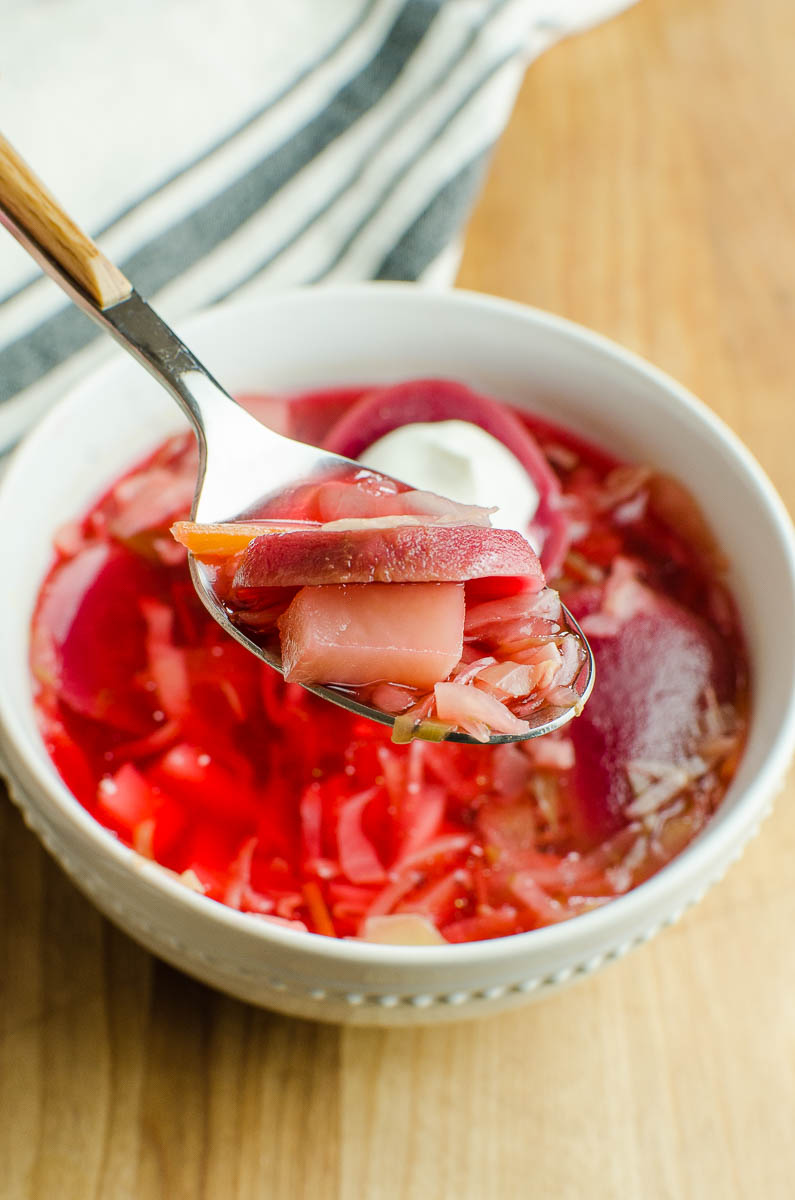 Ingredients
1 jar (16 ounces) Aunt Nellie's Sliced Pickled Beets
1 tablespoon olive oil
1 small russet potato peeled and diced
(1/4-inch), about 1 cup diced
4 cups coleslaw mix1 clove garlic, minced
6 cups low sodium vegetable broth
1 Bay leaf
Salt
Pepper
Sour cream
Chopped fresh dill, optional
Directions
Makes 4 – 6 servings.
1. Drain beets; discard liquid.
2. Heat oil in large saucepan or Dutch oven over medium heat. Add potato pieces and coleslaw mix. Cook 5 to 7 minutes or until vegetables are softened, stirring occasionally. Stir in garlic.
3. Add vegetable broth and bay leaf. Reduce heat and simmer 10 minutes. Add beets. Continue simmering about 5 minutes or until potatoes are tender. Season with salt and pepper, as desired.
4. Serve topped with sour cream and chopped fresh dill, if desired.
Nutrition Information
Nutrition information per serving (1/4 of recipe): 140 calories; 5g protein; 23g carbohydrate; 3.5g fat; 210mg sodium; 0mg cholesterol; 2g dietary fiber; 0.92mg iron; 0.07mg thiamin; 0mcg vitamin A; 16.26mg vitamin C.