PREP TIME: 25 MINUTES | COOK TIME: 20 MINUTES
Ruby Beet Chicken Salad Skewers with Citrus-Stone Ground Mustard Vinaigrette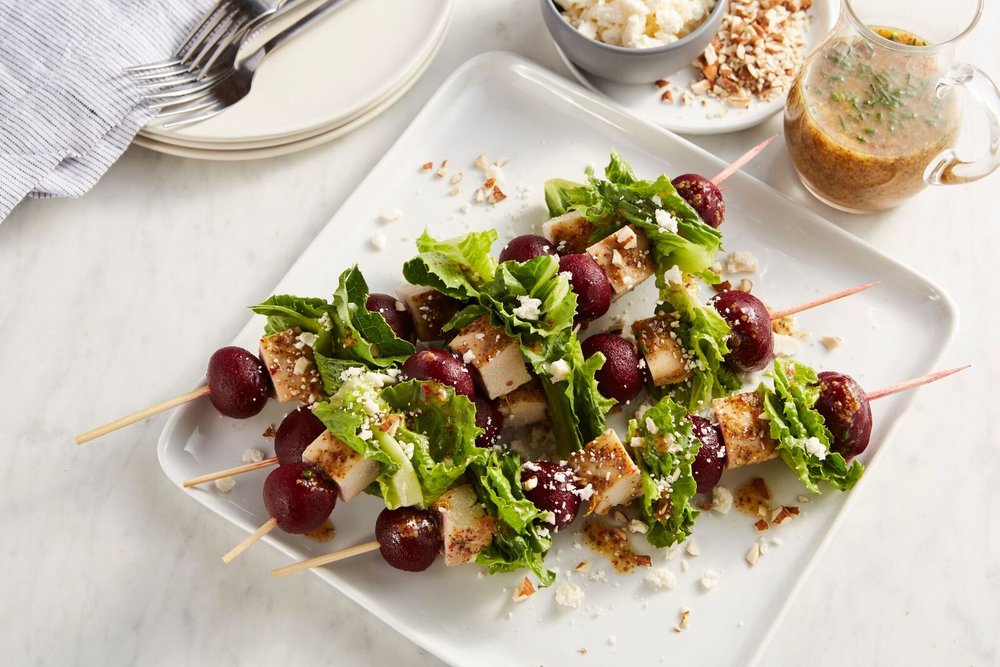 Ingredients
1 jar (16 ounces) Aunt Nellie's Baby Whole Pickled Beets, drained (See Note)
2 large boneless, skinless chicken breast halves (about 1 pound)
Salt
Pepper
4-1/2 tablespoons stone ground mustard, divided
1-1/2 tablespoons plus 1/3 cup orange marmalade, divided
2 tablespoons minced fresh chives
1 large lemon, zested & juiced (1/3 cup juice)
1/2 teaspoon salt
1/2 teaspoon ground pepper
1/4 cup olive oil
1 bag (9 ounces) leafy romaine pieces
1/3 cup chopped almonds, toasted
1/3 cup crumbled firm white cheese (such as blue cheese, feta, or goat)
Directions
Makes 8 servings.
Preheat oven to 375° F. Drain beets; set aside.
Season both sides of chicken with salt and pepper, as desired. In small bowl, combine 1-1/2 tablespoons each of the mustard and the marmalade. Brush mixture over chicken until completely coated. Bake chicken on aluminum foil-lined rimmed baking sheet, about 20 to 25 minutes or until juices run clear; set aside.
Meanwhile, for vinaigrette, in medium bowl, combine remaining 3 tablespoons mustard, 1/3 cup marmalade, chives, zest and lemon juice, salt and pepper. Slowly pour in oil while whisking vigorously until completely combined.
Slice cooled chicken into 1-inch pieces. Onto each skewer, thread a beet, piece of chicken and 4 to 5 pieces of lettuce; repeat two more times; add one beet at end. Repeat to make 8 skewers. Place skewers on large serving platter. Stir vinaigrette; drizzle lightly over skewers. Sprinkle with almonds and cheese. Serve with remaining vinaigrette.
Note
Whole Pickled Beets may be substituted. Cut beets in half.
Nutrition Information
Nutrition information per serving (1/8 of recipe): 255 calories; 15g protein; 20g carbohydrate; 12g fat; 440mg sodium; 40mg cholesterol; 2g fiber; 1mg iron; 0.07mg thiamin; 2871IU vitamin A; 7mg vitamin C.