Chicken Soft Tacos with Pickled Beet Salsa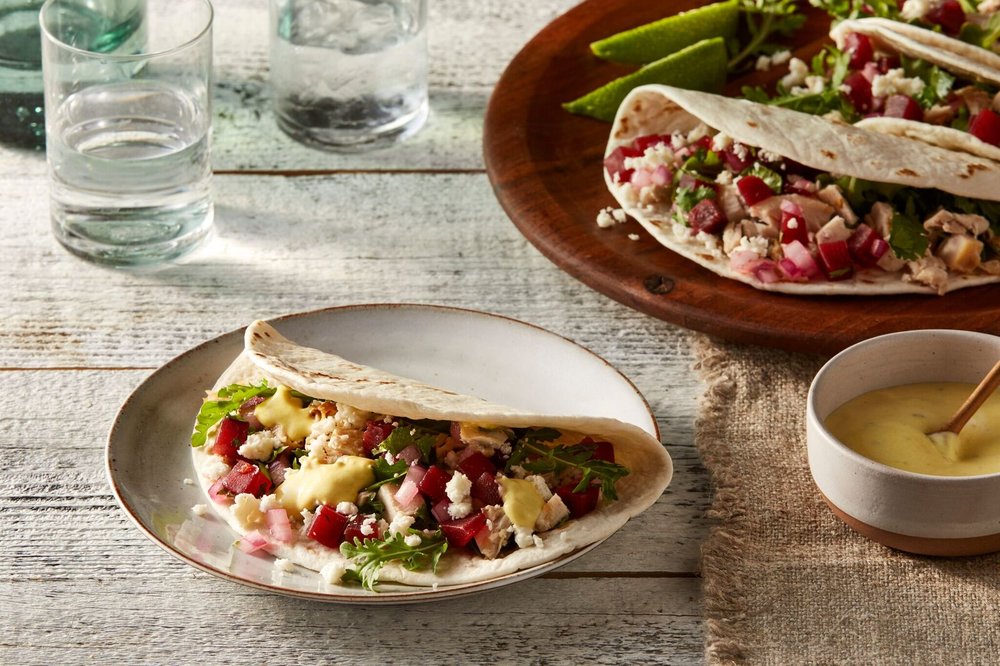 Ingredients
1 jar (16 ounces) Aunt Nellie's Baby Whole Pickled Beets (See Note)
2 tablespoons chopped red onion
2 tablespoons coarsely chopped fresh cilantro leaves
1 tablespoon fresh lime juice
1/4 teaspoon salt
1/4 teaspoon ground black pepper
1/3 cup sour cream
1 tablespoon jalapeno mustard
4 soft flour tortillas (6-inch diameter)
2 cups fresh arugula
2 cups chopped cooked rotisserie chicken (hot or cold)
1/4 cup crumbled queso fresco cheese
Directions
Makes 4 servings.
For salsa, drain beets; chop. In medium bowl, combine beets, onion, cilantro, lime juice, salt and pepper.
In small bowl, stir together sour cream and mustard; set aside.
On one half of tortilla, place equal amounts of beet salsa, arugula, chicken and cheese. Top with dollops of mustard sour cream. Fold over.
Note
Sliced Pickled Beets or 3 single serve cups Aunt Nellie's Diced Pickled Beets may be substituted.
Nutrition Information
Nutrition information per serving (1/4 of recipe): 380 calories; 20g protein; 28g carbohydrate; 20g fat; 650mg sodium; 80mg cholesterol; 1g fiber; 2mg iron; 0.15mg thiamin; 460IU vitamin A; 4mg vitamin C.