Shrimp, Beet & Feta Salad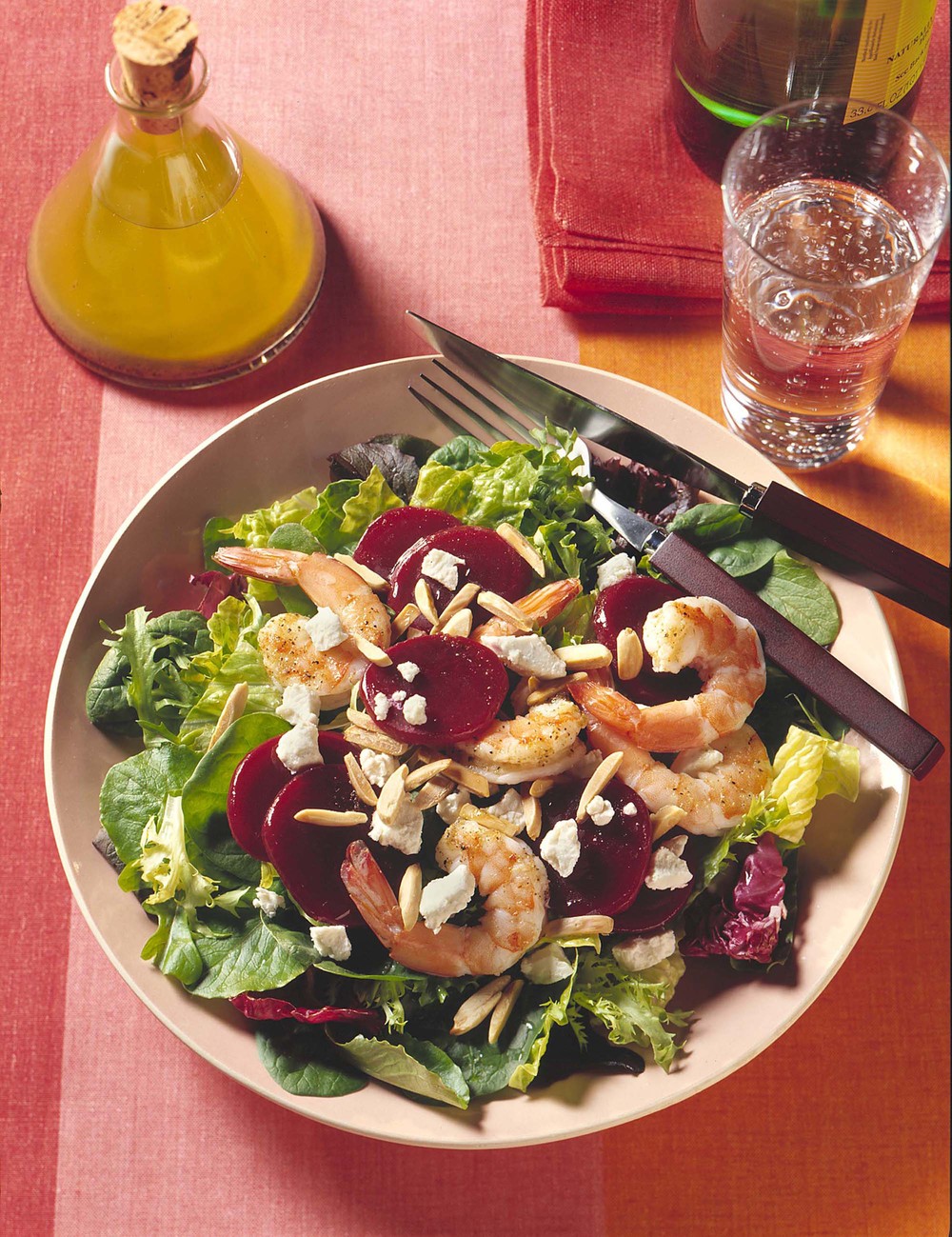 Ingredients
3 tablespoons olive or vegetable oil
2 tablespoons tarragon or white wine vinegar
2 teaspoons Dijon mustard
1/2  teaspoon each dried tarragon or basil and minced garlic
1/4  teaspoon each salt and freshly ground black pepper
8 cups (8 oz.) packed baby spinach or torn spinach leaves
1 jar (16 oz.) Aunt Nellie's® Sliced Pickled Beets, drained
1 pound cooked, cleaned medium shrimp, thawed if frozen
1 cup (4 oz.) crumbled feta or goat cheese or herbed feta cheese
1/4  cup pine nuts or chopped pistachios, toasted
Directions
Makes 4 servings.
For the salad dressing, combine oil, vinegar, mustard, tarragon, garlic, salt and pepper in jar with tight fitting lid.  Shake well.  (Dressing may be prepared and refrigerated up to 3 days before serving.)
In large bowl, combine spinach and beets.  Add dressing; toss well to coat.  Transfer mixture to four serving plates; top with shrimp, cheese and pine nuts.
Note
Recipe prepared with shrimp that have not been treated with seawater or brine solutions which increase sodium content. 1/3 cup bottled Italian salad dressing plus 1/2 teaspoon dried tarragon or basil may replace the salad dressing.
Nutrition Information
Nutrition information per serving (1/4 of recipe): 390 calories; 34g protein; 16g carbohydrate; 22g fat; 580mg sodium; 240mg cholesterol; 2g fiber; 3mg iron; 0.08mg thiamin; 5466IU vitamin A; 16mg vitamin C.