PREP TIME: 15 MINUTES    |   COOK TIME: 15 MINUTES
Red Cabbage & Bacon Pasta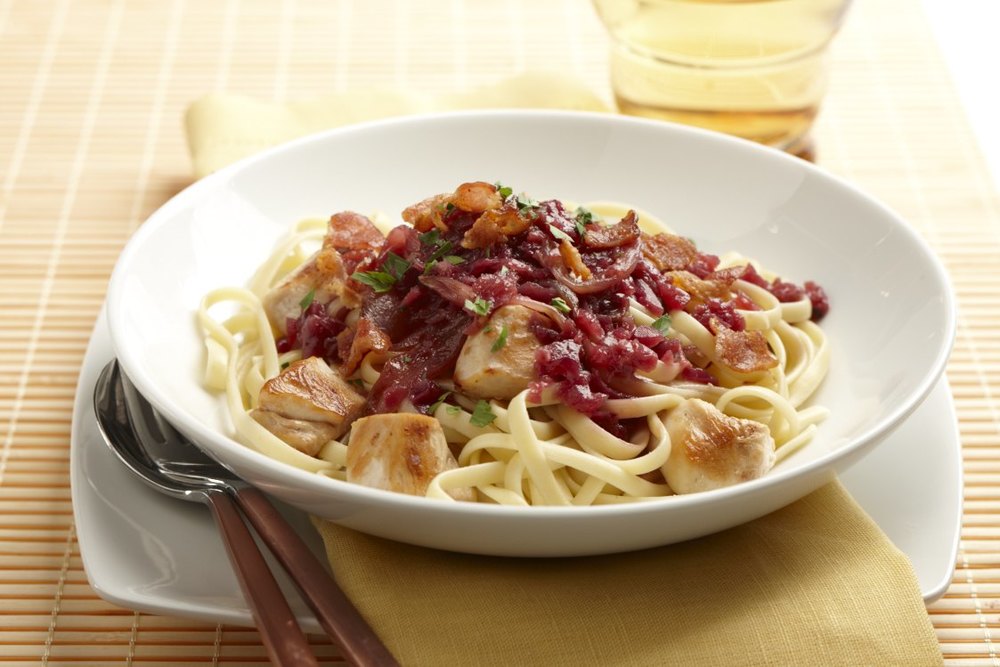 Ingredients
2 slices bacon
1/2 cup red or yellow onion wedges (1/2-inch thick wedges)
2 cloves garlic, minced
3/4 pound boneless, skinless chicken breast, cut into 2-inch chunks
Salt and pepper
1 jar (16 ounces) Aunt Nellie's Sweet & Sour Red Cabbage, not drained
2 tablespoons Dijon mustard
4 cups cooked linguine
Chopped parsley, optional
Directions
Makes 4 servings.
Cook bacon in large skillet over medium heat until crisp; remove bacon from skillet. Crumble and reserve.
Add onion and garlic to skillet; cook 1 minute, stirring frequently. Add chicken pieces; cook about 5 to 7 minutes until browned and cooked through, turning occasionally. (Reduce heat if browning too quickly.) Season with salt and pepper, as desired. Remove chicken from skillet; keep warm.
Add red cabbage and mustard to skillet; stir to combine. Cook 2 minutes to heat through, stirring frequently.
Arrange pasta on 4 plates. Top with chicken pieces and red cabbage mixture. Sprinkle with reserved crumbled bacon and parsley.
Note
For a vegetarian option, omit bacon and chicken. Use 2 teaspoons olive or vegetable oil for sautéing. For a side dish option, omit chicken.
Nutrition Information
Nutrition information per serving (1/4 of recipe): 440 calories; 28g protein; 66g carbohydrate; 9g fat; 1110mg sodium; 60mg cholesterol; 3g dietary fiber; 5mg iron; 0.46mg thiamin; 17IU vitamin A; 20mg vitamin C.