Pulled Pork Sliders with Tangy Red Slaw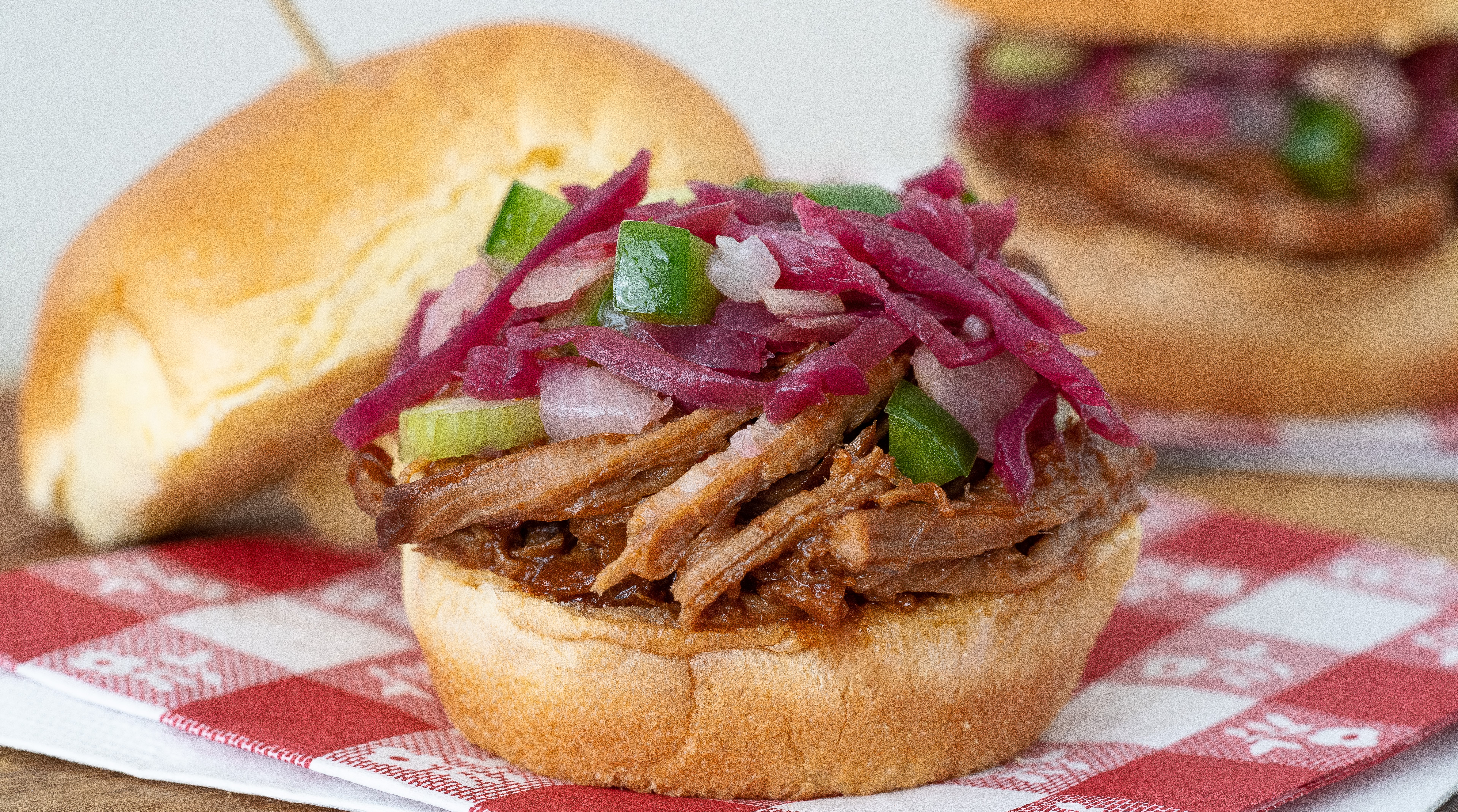 Ingredients
Slaw:
1 tablespoon olive oil
2 tablespoons apple cider vinegar
3/4 teaspoon sugar
1/8 teaspoon cayenne pepper
1/4 cup thinly sliced celery
1/4 cup finely diced green bell pepper
1 cup Aunt Nellie's® Whole Holland Style Onions, drained and coarsely chopped
1 jar (16 ounces) Aunt Nellie's Sweet & Sour Red Cabbage, drained
Sliders:
1 pound pulled pork, heated through
1/4 cup hickory smoked barbecue sauce, heated
12 small pull-apart dinner rolls, split crosswise and lightly toasted
Directions
Makes 6 servings (2 sliders per serving).
For slaw, in large bowl combine oil, vinegar, sugar and cayenne pepper; whisk to combine. Add celery, bell pepper, onions and red cabbage; toss to coat.
In medium bowl, stir pork and barbecue sauce together. To assemble, spoon pork evenly over bottom half of each roll. Top with slaw and top half of each roll. Serve immediately.
Note
If desired, slaw can be served warm. Place slaw in saucepan over medium-low to medium heat. Cook about 5 minutes, or until heated through, stirring frequently.
Nutrition Information
Nutrition information per serving (1/6 of recipe): 450 calories; 24g protein; 46g carbohydrate; 18g fat; 950mg sodium; 680mg cholesterol; 2g dietary fiber; 2.31mg iron; 0.30mg thiamin; 81.56IU vitamin A; 7.33mg vitamin C.