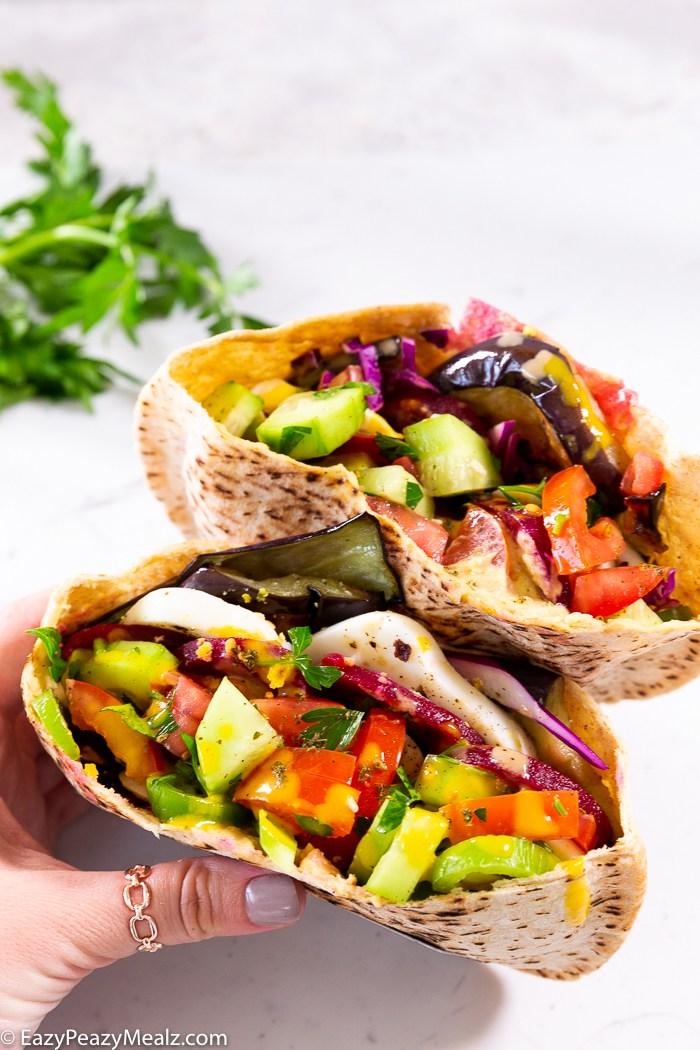 Ingredients
1 jar (16 ounces) Aunt Nellie's Pickled Beets and Onions
1 medium eggplant 
2 teaspoons salt
1 cup vegetable oil
4 hard-boiled eggs, sliced
Salt
Pepper
1/2 teaspoon Za'atar, optional
1/2 teaspoon sumac, optional
1 cucumber, diced
3 Roma tomatoes, diced
1/3 cup fresh parsley, finely chopped
1/2 lemon, juiced
1 teaspoon Za'atar
4 whole grain pita breads with pockets
1/2 cup hummus
2 cups shredded red cabbage
1 medium green bell pepper, thinly sliced
1/4 cup Amba pickled mango sauce, optional 
1/4 cup tahini
Directions
Makes 4 servings.
1. Drain beets and onions; set aside.
2. Wash eggplant. Slice into pieces about 3/8-inch thick. Place slices on cooling rack. Salt slices to draw out the extra moisture. Let set for 10 minutes. Pat extra moisture off.
3. Meanwhile, heat vegetable oil in large skillet (14 inches or larger), over medium heat. Once oil is hot, place eggplant slices into oil; fry until browned. Turn and fry other side, about 3 minutes per side. Do this in batches of 4 pieces until all are fried. Place on paper towel-lined plate when finished frying to help absorb any additional oil.
4. Season hard-boiled egg slices with salt and pepper, as desired. Season with 1/2 teaspoon Za'atar and sumac, if desired. Set aside. For Israeli salad, in medium bowl, combine cucumber, tomatoes, parsley, lemon juice and 1 teaspoon Za'atar. Set aside.
5. Gently slice one end off each pita and open the pocket. Heat pitas in the microwave for 10 seconds on HIGH to make them softer, if desired, before filling. Place equal amounts fried eggplant into each pita. Spread 2 tablespoons hummus inside each pita. Gently layer 1/4 of the egg slices, beets and onions, cabbage, Israeli salad, and green peppers into each of the pitas. You will be dividing all of the ingredients equally between the 4 pitas. Drizzle each sabich with about 1 tablespoon each of amba sauce, if desired and tahini. Season with additional salt and pepper or sumac and Za'atar, if desired.
Nutrition Information
Nutrition information per serving (1/4 of recipe): 680 calories; 21g protein; 72g carbohydrate; 37g fat; 1270mg sodium; 185mg cholesterol; 14g dietary fiber; 6.01mg iron; 0.62mg thiamin; 146.03mcg vitamin A; 62.72mg vitamin C.