PREP TIME: 60 MINUTES (INCLUDES CHILLING TIME) | COOK TIME: 25 MINUTES
Mini Chocolate-Beet Cheesecakes with Maple-Orange Glaze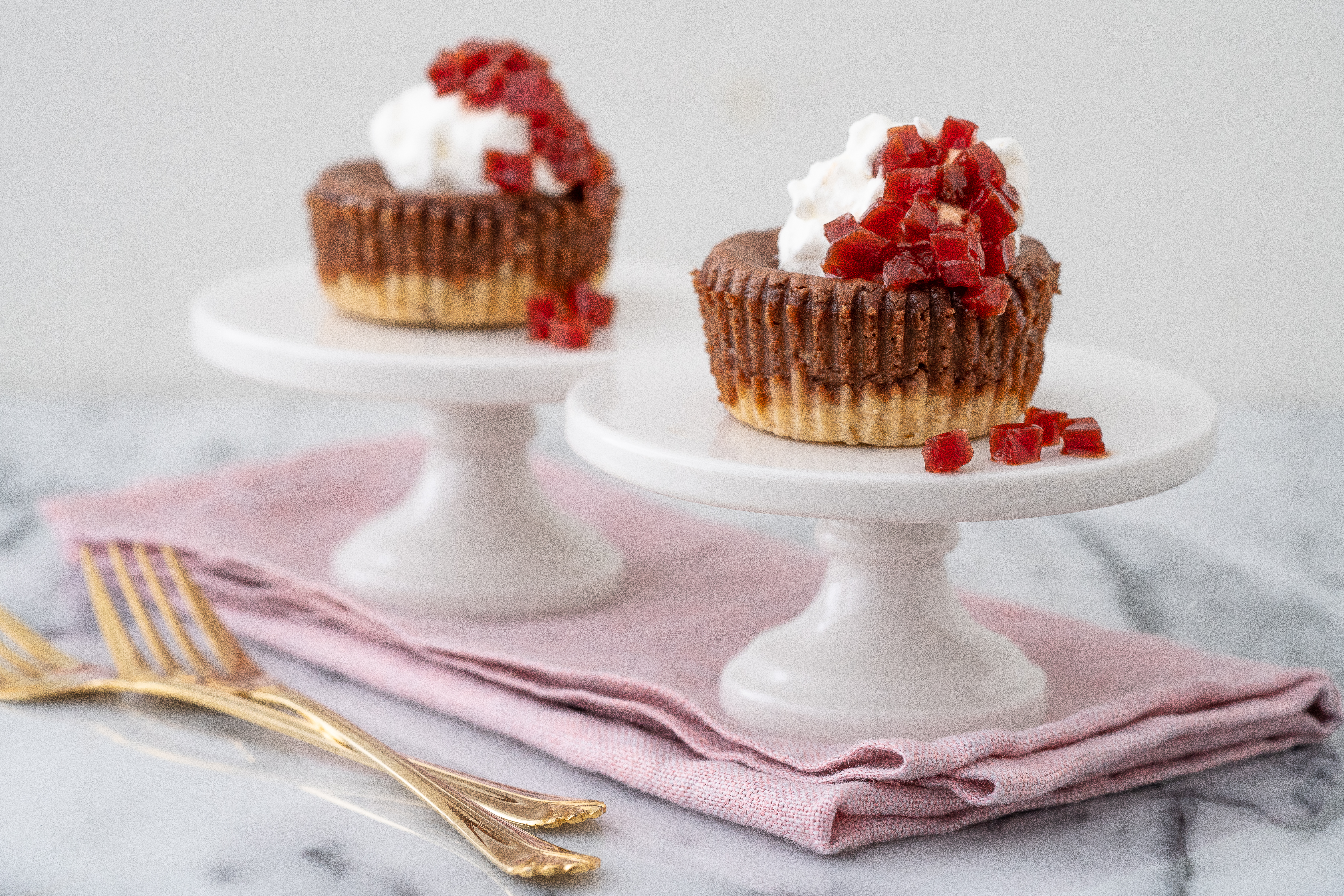 Ingredients
Crust:
1/2 cup all-purpose flour
1/4 cup chopped walnuts
3 tablespoons salted butter, softened
Cheesecake:
1 jar (15 ounces) Aunt Nellie's Sliced Beets
1 package (8 ounces) cream cheese, softened
1/4 cup pure maple syrup
1 large egg
1/2 cup semi-sweet chocolate chips, melted
Topping:
2 tablespoons frozen orange juice concentrate
3 tablespoons pure maple syrup
1/8 teaspoon ground cinnamon
Whipped cream (optional)
Directions
Makes 12 servings.
Preheat oven to 350°F. Line 12 medium muffin cups with foil liners.
For crust, in medium bowl, combine flour and walnuts.
Cut in butter with a fork or pastry blender until mixture resembles fine crumbs. Place about 1 heaping tablespoon of mixture into each lined muffin cup. Lightly press crumbs into bottom. Bake 5 to 6 minutes or until crust is just beginning to brown.
Meanwhile, for cheesecake, drain beets, reserving 2 tablespoons liquid. Place 1/2 cup of beets and reserved liquid in blender; puree until smooth. Set aside. Dice remaining beets; set aside.
In large bowl, combine cream cheese and 1/4 cup syrup. Beat until smooth. Add egg; mix until blended. Stir in reserved pureed beets. Add melted chocolate; mix well. Spoon about 3 tablespoons of cream cheese mixture into muffin cups, over warm crusts. Bake an additional 15 minutes or until filling is set and bounces back to the touch. Let cool to room temperature. Place cheesecakes in refrigerator for at least 30 minutes.
For topping, in small saucepan combine reserved diced beets, juice concentrate, 3 tablespoons syrup and cinnamon. Cook and stir over medium heat until mixture comes to a boil, stirring frequently. Continue to cook and stir until mixture thickens and appears glossy, about 5 to 8 minutes. Remove from heat; let cool to room temperature.
Remove cheesecakes from muffin liners. Top evenly with glazed beets. Serve with whipped cream, if desired.
Nutrition Information
Nutrition information per serving (1/12 of recipe): 220 calories; 3g protein; 21g carbohydrate; 14g fat; 135mg sodium; 45mg cholesterol; 1g dietary fiber; 0.49mg iron; 0.07mg thiamin; 373.88IU vitamin A; 4.33mg vitamin C.