PREP TIME: 50 MINUTES   |    BAKE TIME: 45 MINUTES
Holiday Cranberry-Beet Bundt Cake with Orange-Walnut Glaze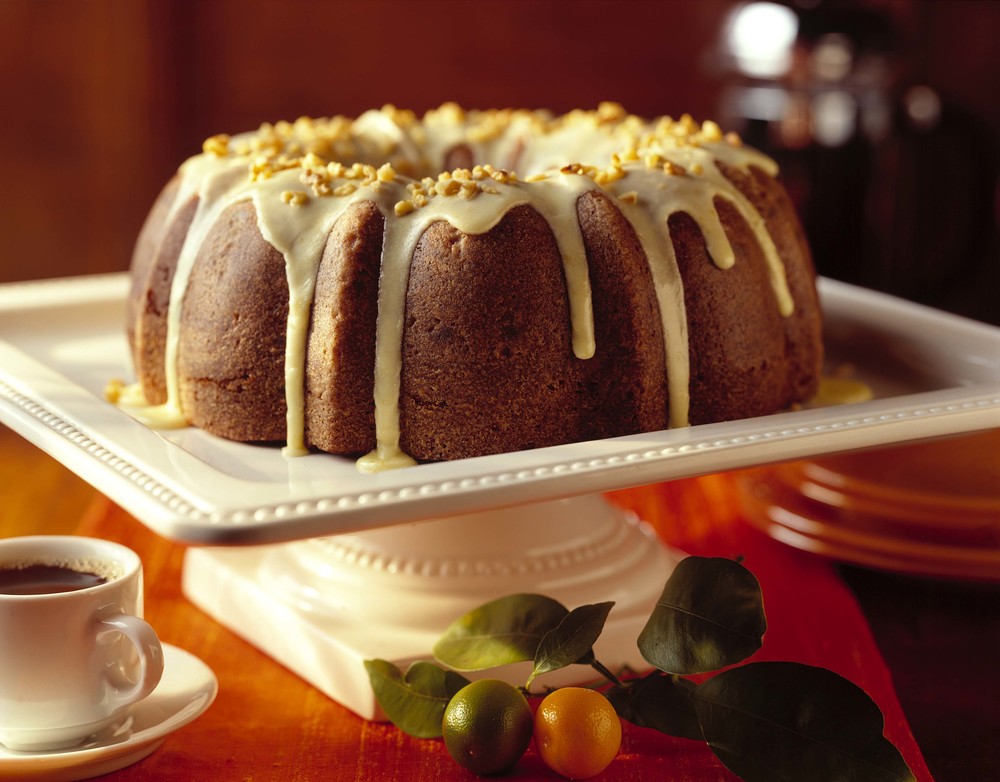 Ingredients
1  jar (16 ounces) Aunt Nellie's Sliced Pickled Beets, drained
2-1/4  cups granulated sugar, divided
1-1/4  cups dried sweetened cranberries
2-1/2  cups all-purpose flour
1-1/2  teaspoons baking powder
1  teaspoon baking soda
1/2 teaspoon salt
1 teaspoon ground cinnamon
1/2 teaspoon ground nutmeg
4  large eggs, at room temperature
1-1/2  sticks (12 tablespoons) unsalted butter, very soft
1/4 cup vegetable oil
Finely grated zest of 1 orange
2 teaspoons vanilla extract
1/2 cup buttermilk
Orange-Walnut Glaze (recipe below)
Directions
Makes 16 servings.
Preheat oven to 350°F.  Butter and lightly flour fluted 10-inch Bundt pan, shaking out excess flour.
Place beets and 1 cup of sugar in food processor.  Process until smooth puree, about 30 seconds, scraping down sides of bowl once.  Reserve.
Place cranberries in small bowl; add enough hot water to cover.  Set aside.
Sift flour, baking powder, baking soda, salt, cinnamon, and nutmeg into medium-size mixing bowl.  Set aside.
Place remaining 1-1/4 cups sugar, eggs, butter and oil in large mixing bowl.  Beat on medium-high speed of electric mixer 2 to 3 minutes, until light and smooth.  Blend in beet puree.  Add orange zest and vanilla; mix briefly, until blended.  Add half of flour mixture; beat on low speed until smooth.  Add buttermilk; beat on low speed until smooth, then add the remaining flour mixture, beating the batter until blended.  Drain cranberries well; fold into batter.
Turn batter into prepared pan, spreading evenly.  Bake on center oven rack approximately 45 to 50 minutes.  When done, cake will have pulled away from sides of pan.  A tester, inserted deep into center of cake, will come out clean.
Transfer pan to cooling rack.  Cool 15 minutes, then invert cake onto the cooling rack.  Cool briefly; glaze cake while still warm.
Orange-Walnut Glaze
Ingredients
2-1/2  cups confectioners' sugar, sifted
Finely grated zest of 1 orange
1/4 cup orange juice, plus additional for thinning glaze
1-1/2  tablespoons unsalted butter, melted
1 cup finely chopped walnuts
Directions
In large mixing bowl, combine sugar and orange zest.  Add orange juice; whisk until smooth.  Whisk in butter.  Add additional juice as necessary for consistency.  Spoon glaze over cake.  Sprinkle with walnuts.
Nutrition Information
Nutrition information per serving (1/16 of recipe): 480 calories; 5g protein; 75g carbohydrate; 19g fat; 250mg sodium; 70mg cholesterol; 2g fiber; 1mg iron; 0.16mg thiamin; 379IU vitamin A; 3mg vitamin C.