PREP TIME: 25 MINUTES   |   BAKE TIME: 20 MINUTES
Spicy Beet, Fruit & Nut Bars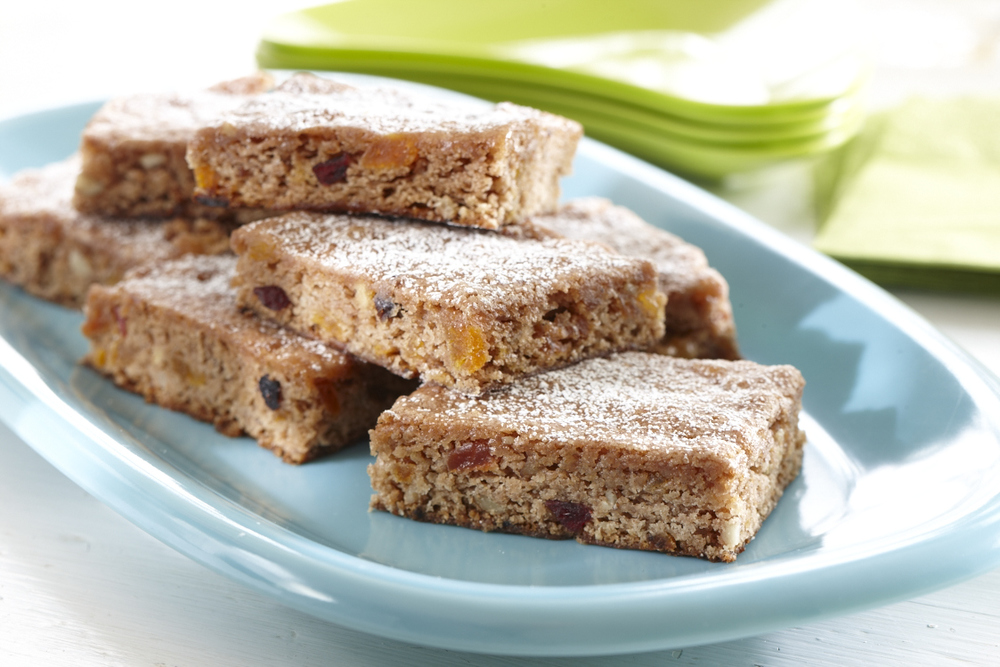 Ingredients
1 jar (15.5 ounces) Aunt Nellie's Harvard Beets
1 package (15.25 ounces) spice cake mix
1 cup packed light brown sugar
1/4 cup canola or vegetable oil
1 large egg
1 cup dried mixed fruits, chopped if necessary
1/2 cup chopped walnuts, pecans or almonds (or a combination), toasted
Confectioners' sugar
Directions
Makes 28 servings.
Preheat oven to 350°F. Drain beets. Puree beets in food processor or blender until smooth; set aside. Line 15 x 10 x 1-inch baking pan with aluminum foil. Spray lightly with nonstick cooking spray.
Place cake mix in large bowl. Add pureed beets, brown sugar, oil and egg. Beat on low speed of electric mixer 2 minutes or until completely combined, scraping bowl as necessary. Stir in fruits and nuts.
Spread dough evenly in prepared pan. Bake 20 minutes or until pick inserted in center comes out clean. Cool completely. Sprinkle with confectioners' sugar. Cut into bars.
Nutrition Information
Nutrition information per serving (1/28 of recipe): 140 calories; 2g protein; 22g carbohydrate; 5g fat; 135mg sodium; 10mg cholesterol; less than 1g fiber; 0.74mg iron; 0.04mg thiamin; 16.25IU vitamin A; 0.11mg vitamin C.