Fresh 'n Fruity Summer Salad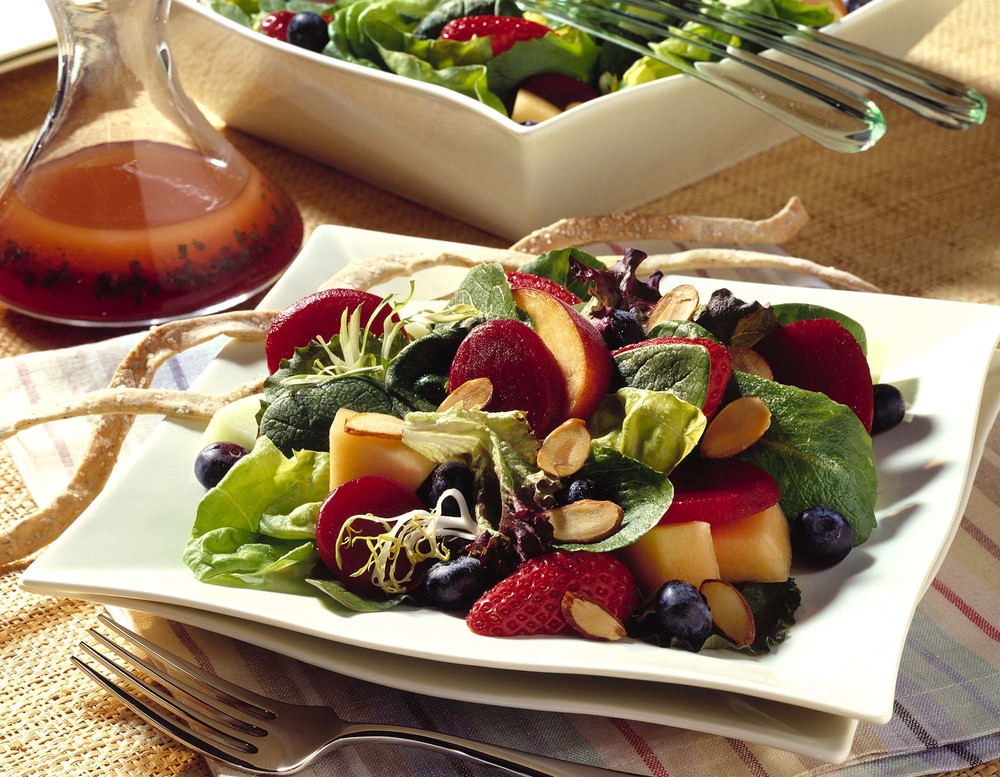 Ingredients
1 package (6 ounces) ready-to-eat baby spinach or other greens, about 6 cups
2-1/2 cups bite-size pieces honeydew melon or cantaloupe
2 peaches or nectarines, pitted and cut into wedges
1 cup fresh blueberries or sliced strawberries
1/4 cup toasted sliced almonds
DRESSING:
1 jar (16 ounces) Sliced Pickled Beets, not drained
1/4 cup orange juice
1 tablespoon finely chopped fresh basil or
1 teaspoon dried basil
1/2 teaspoon black pepper
1/2 cup canola or vegetable oil
Directions
Makes 8 servings.
For dressing, drain beets, reserving 1/4 cup liquid.  Set beets aside.  In small bowl, combine reserved beet liquid, orange juice, basil and pepper.  With wire whisk or fork, whisk in oil.  Set aside.
For salad, arrange spinach, reserved beets, melon, peaches and berries on large platter.
To serve, drizzle with dressing; toss lightly.  Sprinkle with almonds.
Variation
For a main dish salad, add cooked shrimp or grilled chicken breast.
Nutrition Information
Nutrition information per serving (1/8 of recipe): 220 calories; 2g protein; 19g carbohydrate; 16g fat; 130mg sodium; 0mg cholesterol; 2g fiber; 1mg iron; 0.04mg thiamin; 2157IU vitamin A; 22mg vitamin C.