PREP TIME: 15 MINUTES | COOK TIME: 5 TO 7 MINUTES | CHILL TIME: 2 TO 4 HOURS
Recipe courtesy of Andie Mitchell
Farro Beet Mason Jar Salad with Pistachios and Apricots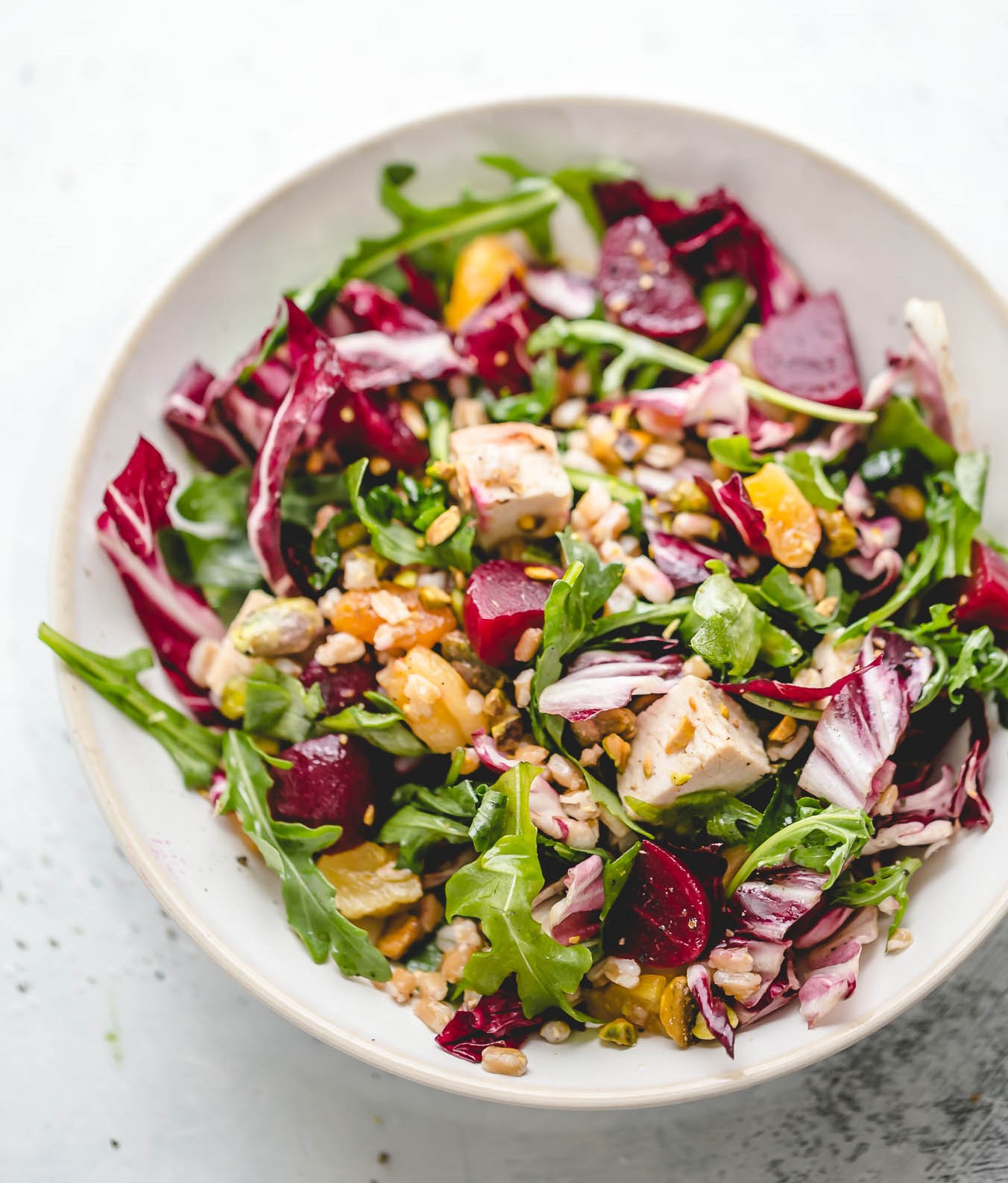 Ingredients
1/2 cup dry farro (1 cup cooked) see note
1 jar (16 ounces) Aunt Nellie's Baby Whole Pickled Beets
2 cups chopped radicchio
2 cups chopped cooked chicken breast from a rotisserie chicken (about 12 ounces)
1/3 cup shelled pistachios, chopped
1/3 cup dried apricots, chopped (about 10 dried apricots)
4 cups arugula or baby spinach
Beet Vinaigrette
2 tablespoons liquid from a jar of Aunt Nellie's Baby Whole Pickled Beets
2 tablespoons apple cider vinegar
1 tablespoon grated orange zest
2 tablespoons extra-virgin olive oil
1/4 teaspoon salt
1/8 teaspoon freshly ground black pepper
Directions
Makes 4 servings.
Drain beets; reserve 2 tablespoons beet liquid. Chop beets. Set aside.
In small saucepan, combine farro with 2 cups water. Bring to boil. Stir, then reduce heat and simmer until grains are tender but still chewy, about 20 minutes. Drain off any excess water and fluff farro with fork. Let cool to room temperature.
Meanwhile, make the vinaigrette. In small bowl, whisk together 2 tablespoons reserved beet liquid, vinegar, orange zest, olive oil, salt and pepper.
Divide vinaigrette among 4 quart-sized mason jars or and tall, narrow containers (about 2 tablespoons vinaigrette each). Next, divide chopped beets among the jars, followed by radicchio, then the chicken, farro, pistachios, apricots and arugula. Cover and refrigerate until serving time. Pour salad into a bowl or onto a plate to serve.
Note
Quick cooking farro can also be used. Follow package directions to make 1 cup cooked.
Nutrition Information
Nutrition information per serving (1/4 of recipe):  390 calories; 30g protein; 39g carbohydrate; 15g fat; 540mg sodium; 70mg cholesterol; 5g fiber; 1.72mg iron; 0.14mg thiamin; 1173.93IU vitamin A; 7.38mg vitamin C.