PREP TIME: 25 MINUTES | COOK TIME: 25 MINUTES
Recipe courtesy of Stephanie Wise-Girl vs Dough
Dark Chocolate Beet Cupcakes with Mocha Buttercream Frosting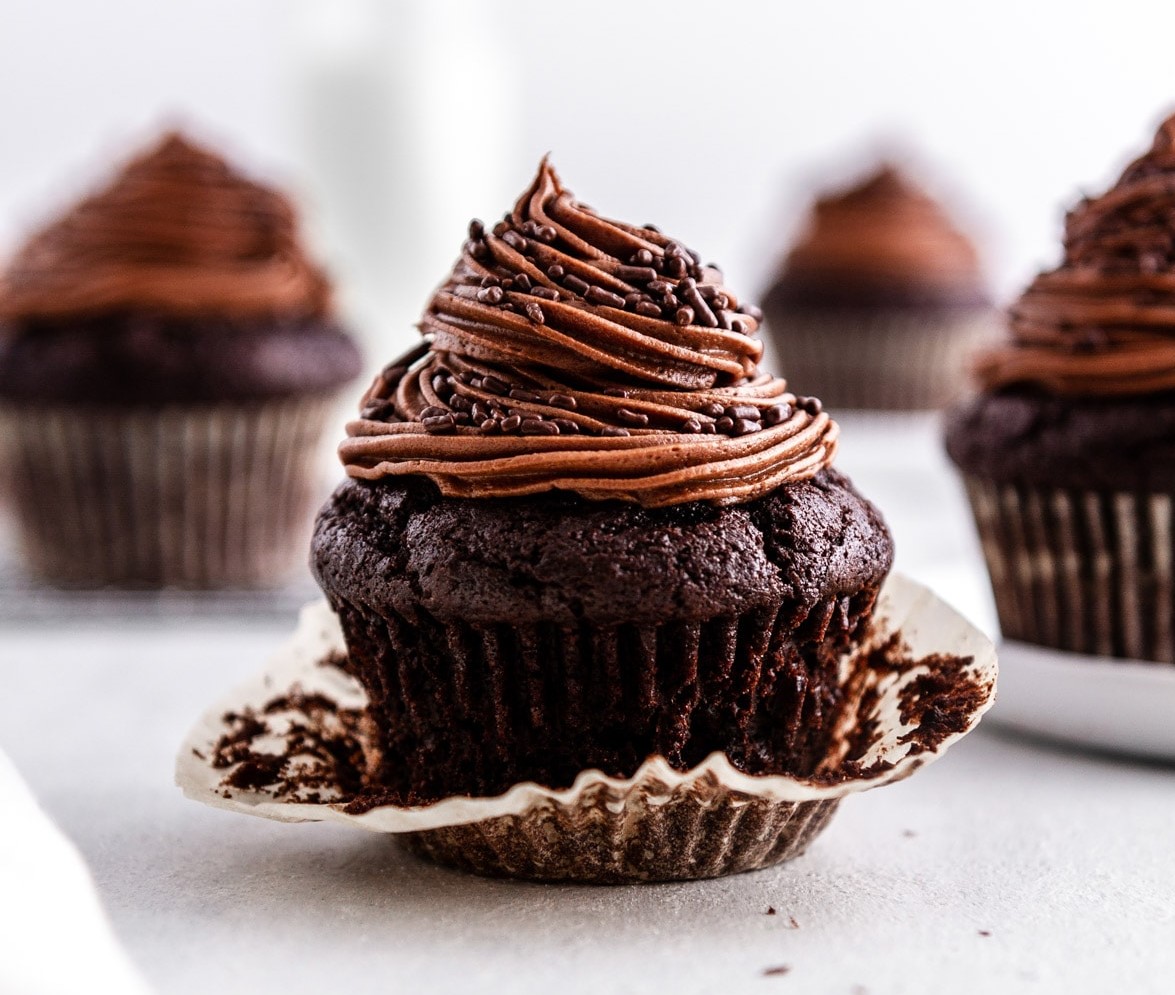 Ingredients
1 jar (15 ounces) Aunt Nellie's Sliced Beets, drained
1-1/4 cups all-purpose flour
3/4 cup Dutch-processed cocoa powder
3/4 teaspoon baking soda
1/2 teaspoon baking powder
1/2 teaspoon salt
1-1/3 cups granulated sugar
1/2 cup buttermilk
4 tablespoons unsalted butter, melted and cooled slightly
2 ounces bittersweet chocolate bar, melted
2 eggs, lightly beaten
Frosting
2 tablespoons milk
1-1/2 teaspoons instant espresso powder
1-3/4 cups confectioner's sugar
1/3 cup unsweetened cocoa powder
1/4 cup unsalted butter, softened
1 teaspoon vanilla extract
Chocolate sprinkles (optional)
Directions
Makes 12 servings.
Heat oven to 350°F. Line standard-size muffin tin with 12 paper baking cups.
Drain beets. Discard liquid or save for another use.
In food processor, process drained beets to a smooth puree. Set aside.
In medium bowl, whisk flour, Dutch-processed cocoa powder, baking soda, baking powder and salt until well combined. In separate large bowl, whisk reserved beet puree, granulated sugar, buttermilk, melted butter, melted chocolate and eggs until well combined. Using a spatula, fold dry ingredients into wet ingredients just until combined.
Divide batter evenly among lined muffin cups. Bake 22 to 25 minutes or until a toothpick inserted in the center of each cupcake comes out clean. Transfer cupcakes to cooking rack to cool completely.
Meanwhile, for the frosting, in small microwave-safe bowl or cup, microwave milk on high 5 seconds until warm. Stir in instant espresso powder to dissolve. In a separate medium bowl, whisk confectioners' sugar and unsweetened cocoa powder until well combined.
In large bowl with an electric hand mixer or in the bowl of a standard mixer with the whisk attachment, beat softened butter on high speed until light and smooth. Alternately stir in confectioner's sugar mixture and milk mixture, beginning and ending with sugar mixture; beat well after each addition. Beat in vanilla. Beat on high speed 1 minute or until frosting is smooth and airy.
Pipe or spread frosting onto fully cooled cupcakes. Top with chocolate sprinkles, if desired. Store in an airtight container at room temperature for up to 3 days.
Nutrition Information
Nutrition information per serving (1/12 of recipe):  340 calories; 5g protein; 57g carbohydrate; 12g fat; 265mg sodium; 50mg cholesterol; 4g fiber; 2.19mg iron; 0.12mg thiamin; 292.83IU vitamin A; 0.11mg vitamin C.