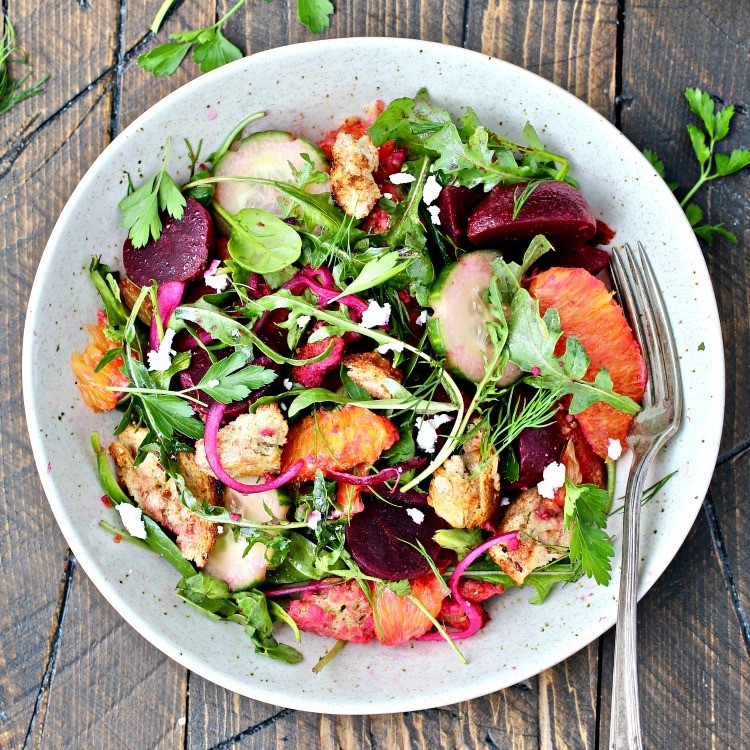 Ingredients
1 jar (16 ounces) Aunt Nellie's Whole Pickled Beets
6 ounces whole grain bread, torn into bite-sized pieces
1 tablespoon extra virgin olive oil
1/3 cup thinly sliced red onion
3 to 4 tablespoons reserved beet liquid
2 navel oranges
3 cups baby arugula
1/2 cup fresh herbs such as parsley and dill
1 cup sliced English cucumber
1/4 cup crumbled feta or goat cheese
Dressing
1 tablespoon reserved beet liquid
1 tablespoon fresh orange juice
1/4 teaspoon Dijon mustard
2 tablespoons extra virgin olive oil
Kosher salt
Freshly ground black pepper
Directions
Makes 4 servings.
Drain beets; reserve liquid. Cut beets in half.
For salad, toss bread with the olive oil on rimmed baking sheet.  Toast in broiler, tossing occasionally, until golden brown, about 3 to 4 minutes. Remove from oven; cool.
In a small bowl, combine onion slices and 3 to 4 tablespoons reserved beet liquid; set aside.
Cut top and bottom ends off oranges. Place oranges flat on cutting board and cut down the sides to remove peel.  Working over a bowl to collect any juices, cut out the orange segments, leaving membranes behind. Once all orange segments are removed, squeeze membranes to get all of juice.  Reserve juice for salad dressing.
To make dressing, whisk 1 tablespoon of reserved beet liquid with orange juice, mustard and olive oil.  Season dressing with pinch of salt and pepper, as desired.
Drain red onion slices; set aside. In large salad bowl, combine arugula, herbs, beets and red onion slices. Toss to combine. Add orange segments, cucumber, toasted bread and cheese. Pour dressing over salad. Toss to combine.
Note
By using the pickling liquid from the beets to make the salad dressing, the dressing has a deep pink color that will turn the salad ingredients a pretty pink color when ingredients are tossed together. If desired, 1 tablespoon white wine vinegar sweetened with a pinch of sugar or honey can be used in place of beet liquid.
Nutrition Information
Nutrition information per serving (1/4 of recipe):  330 calories; 9g protein; 42g carbohydrate; 14g fat; 360mg sodium; 10mg cholesterol; 5g fiber; 1.86mg iron; 0.21mg thiamin; 962.48IU vitamin A; 52.49mg vitamin C.