Red Velvet Beet Poke Cake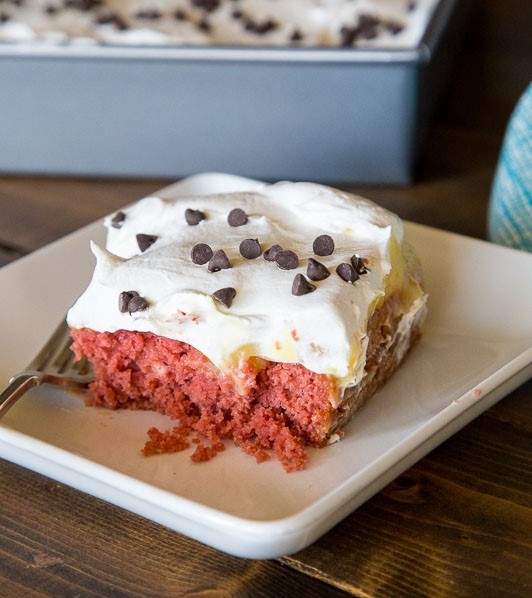 Ingredients
Cake
1 jar (16 ounces) Aunt Nellie's Sliced Picked Beets
Water
1 package (15.25 ounces) yellow or white cake mix
1 tablespoon unsweetened cocoa powder
2 large eggs
3 tablespoons vegetable oil
Pudding Layer
2 (3.4 ounces each) package vanilla instant pudding mix
4 cups skim milk
Topping
1-1/2 cups heavy cream
1/3 cup powdered sugar
1 teaspoon vanilla extract
1/4 cup mini semi-sweet chocolate chips
Directions
Makes 16 servings.
Preheat oven to 350°F. Spray 9 x 13 x 2-inch baking pan with nonstick baking spray, or grease and flour the pan. Set aside.
Drain beets; reserve liquid. Puree beets and 1/4 cup beet liquid in food processor or blender until smooth. Add enough water to remaining beet liquid to equal 1 cup.
In large bowl, stir together cake mix and cocoa powder. Add beet puree, beet liquid, eggs and oil. Beat on low speed of electric mixer to combine. Beat 2 minutes on medium until smooth, scraping bowl occasionally.
Pour into prepared pan. Bake 20 to 25 minutes, or until tester inserted in center comes out clean. Remove from heat; place on wire rack. Let cool 20 minutes.
Using handle of wooden spoon, poke holes in the top of the cake about 1-inch apart.
In large bowl, whisk together pudding mix and milk until smooth. Pour over cake. Spread evenly making sure to spread into holes. Refrigerate cake at least 2 hours.
For topping, in large bowl, beat heavy cream, powdered sugar and vanilla together until stiff peaks form. Spread over pudding layer. Top with mini chocolate chips.
Slice and serve. Store any leftovers, covered, in refrigerator.
Nutrition Information
Per serving (1/16 of recipe): 320 calories; 4g protein; 45g carbohydrate; 14g fat; 440mg sodium; 55mg cholesterol; 1g fiber; 0.75mg iron; 0.10mg thiamin; 487.21IU vitamin A; 0.13mg vitamin C.