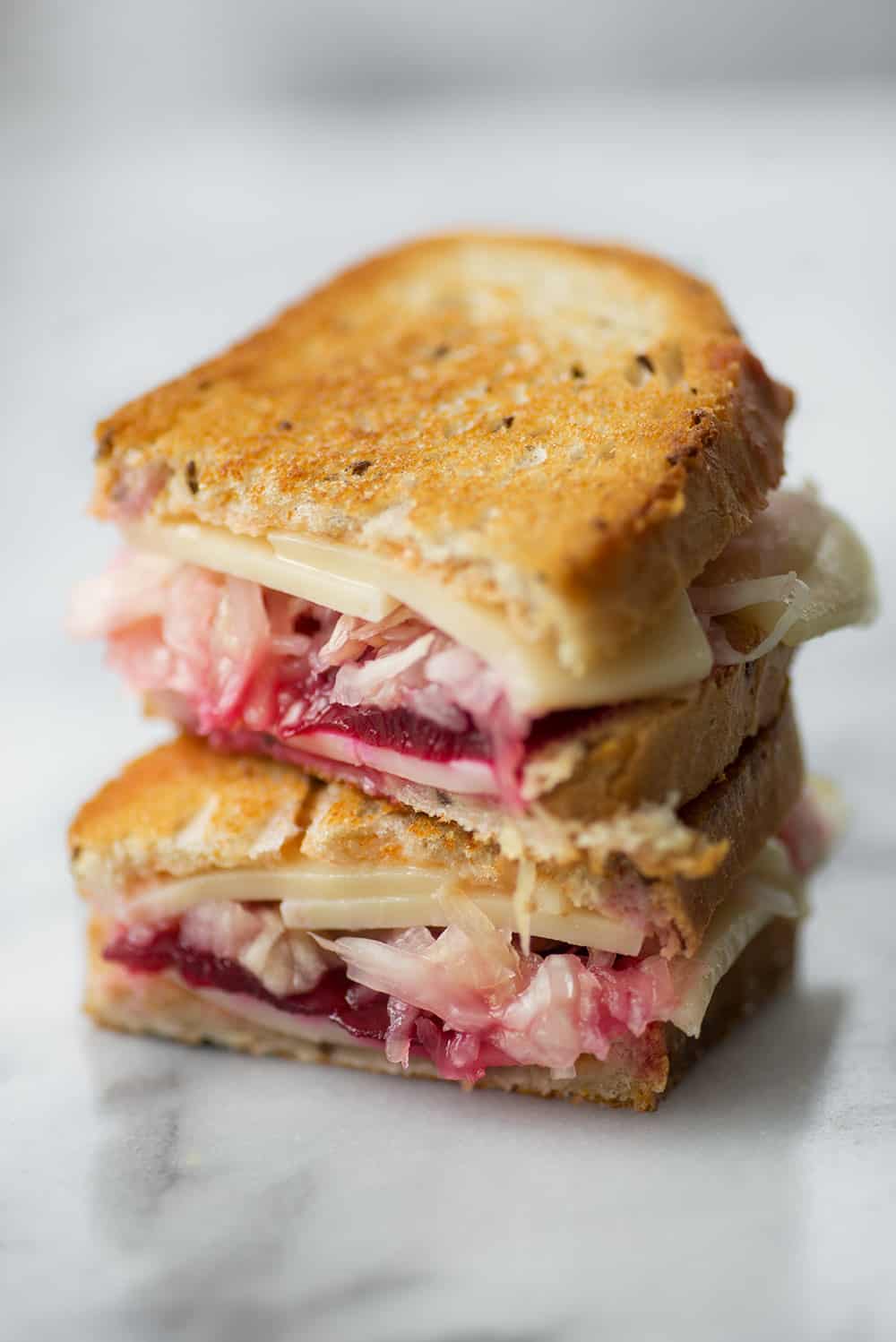 Ingredients
1 jar (16 ounces) Aunt Nellie's Sliced Pickled Beets, drained
1/4 cup mayonnaise
3 tablespoons chopped dill pickle
3 tablespoons ketchup
1/2 teaspoon hot sauce (such as tabasco)
8 slices rye bread
8 slices thinly sliced Swiss cheese
1 cup sauerkraut, drained well
2 tablespoons unsalted butter
Directions
Makes 4 servings.
Drain beets; discard liquid. Pat dry; set aside.
In small bowl, stir together mayonnaise, pickle, ketchup and hot sauce.
Assemble the sandwiches: spread one side of bread slice with mayonnaise mixture. Top with one slice cheese, 5 to 7 beet slices, 1/4 cup sauerkraut and another cheese slice. Top with another slice of bread spread with mayonnaise mixture. Repeat with remaining ingredients to make three additional sandwiches.
Heat 1 tablespoon butter in large nonstick skillet over medium heat. Add one or two sandwiches. Cook until crispy, golden brown, and the cheese has melted, about 2 minutes. Flip the sandwich and cook another 2 minutes. Repeat with the remaining sandwiches, adding more butter as needed. Cut in half; serve warm.
Nutrition Information
Nutrition information per serving (1/4 of recipe): 510 calories; 16g protein; 48g carbohydrate; 29g fat; 940mg sodium; 55mg cholesterol; 5g fiber; 2.11mg iron; 0.31mg thiamin; 574.46IU vitamin A; 3.72mg vitamin C.