PREP TIME: 30 MINUTES   |   COOK TIME: 15 MINUTES
Salmon & Beet Salad with Pomegranate Dressing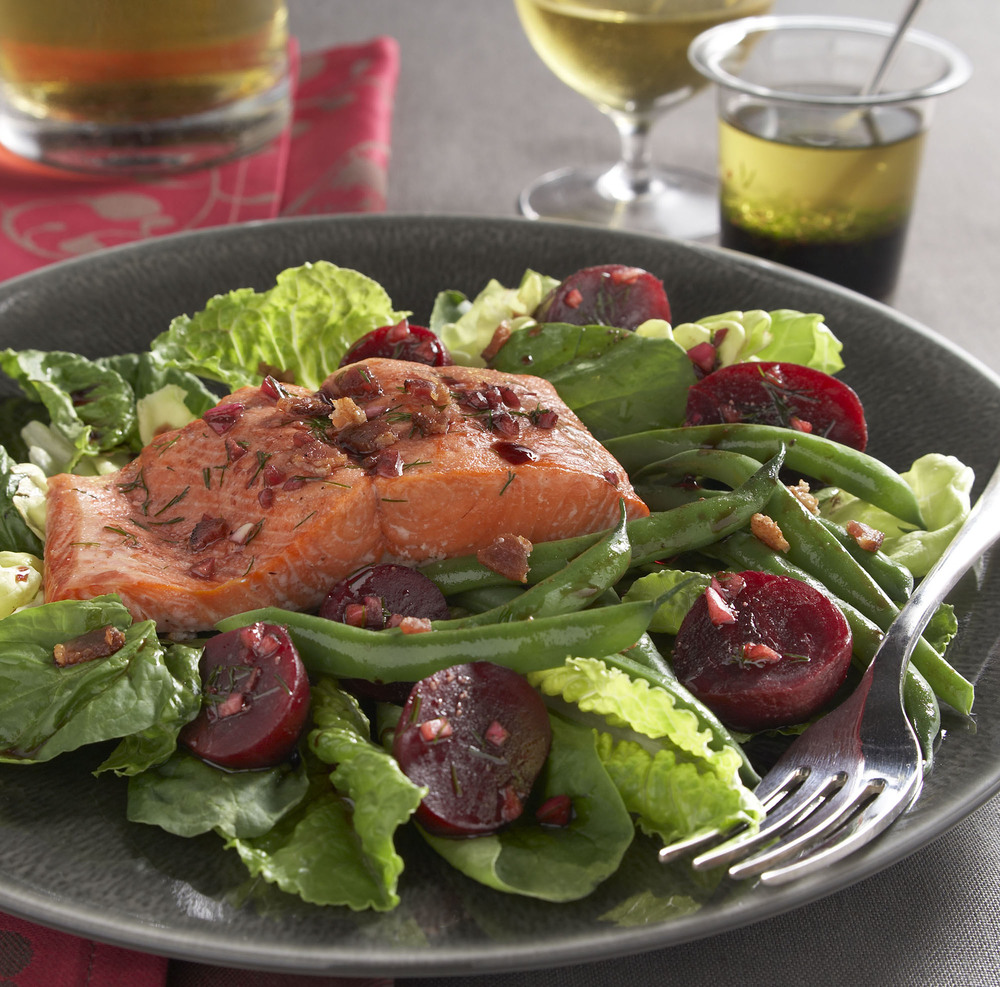 Ingredients
1 jar (16 ounces) Aunt Nellie's Whole Pickled Beets
1 pound salmon fillet, skin on, cut into 4 equal pieces
1 package (5.5 ounces or 6 cups) mixed salad greens, preferably including spinach
1/2 pound green beans, trimmed, cooked crisp-tender
1/4 cup crumbled, cooked bacon
Chopped dill, for garnish (optional)
Dressing:
2 tablespoons reserved liquid from Aunt Nellie's Whole Pickled Beets
2 tablespoons balsamic vinegar
2 tablespoons unsweetened pomegranate juice
1 tablespoon very finely chopped shallot
1-1/2 teaspoons chopped fresh dill
1/2 teaspoon salt
1/4 teaspoon pepper
1/2 cup olive oil
Directions
Makes 4 servings.
To prepare dressing: Combine 2 tablespoons liquid from jarred beets, balsamic vinegar, pomegranate juice, shallot, dill, salt and pepper in small bowl.  Slowly whisk in olive oil.
Place salmon pieces in a shallow dish and drizzle with 1/4 cup of the dressing; turn to coat.  Cover and marinate in the refrigerator 15 to 30 minutes.  Reserve remaining dressing.
Drain off and discard remaining liquid from beets; cut beets in half. Combine beets and 2 tablespoons reserved dressing in small bowl and toss to coat; set aside.
Preheat oven to 450°F.   Place salmon, skin side down, on one half of a rimmed baking sheet (10-1/2 x 15-1/2 x 1-inch) that has been sprayed with nonstick cooking spray.  Drizzle salmon with any remaining marinade.  Place beets on other half of baking sheet.  Roast salmon and beets in oven 8 to 10 minutes, until salmon is cooked through (salmon should flake easily when tested with a fork).  Remove and discard skin from salmon; set salmon and beets aside for 5 minutes. (See Note)
Divide greens among 4 individual plates.  Top with equal amounts of green beans and roasted beets.  Place one portion salmon on each salad.  Sprinkle with bacon, additional dill, if desired, and drizzle each serving with 2 tablespoons reserved dressing.
Note
If desired, salmon and beets can be made up to 1 day ahead, refrigerated and served cold.
Nutrition Information
Nutrition information per serving (1/4 of recipe): 480 calories; 25g carbohydrate; 25g protein; 31g fat; 760mg sodium; 60mg cholesterol; 4g fiber; 2mg iron; 0.2mg thiamin; 1413IU vitamin A; 23mg vitamin C.