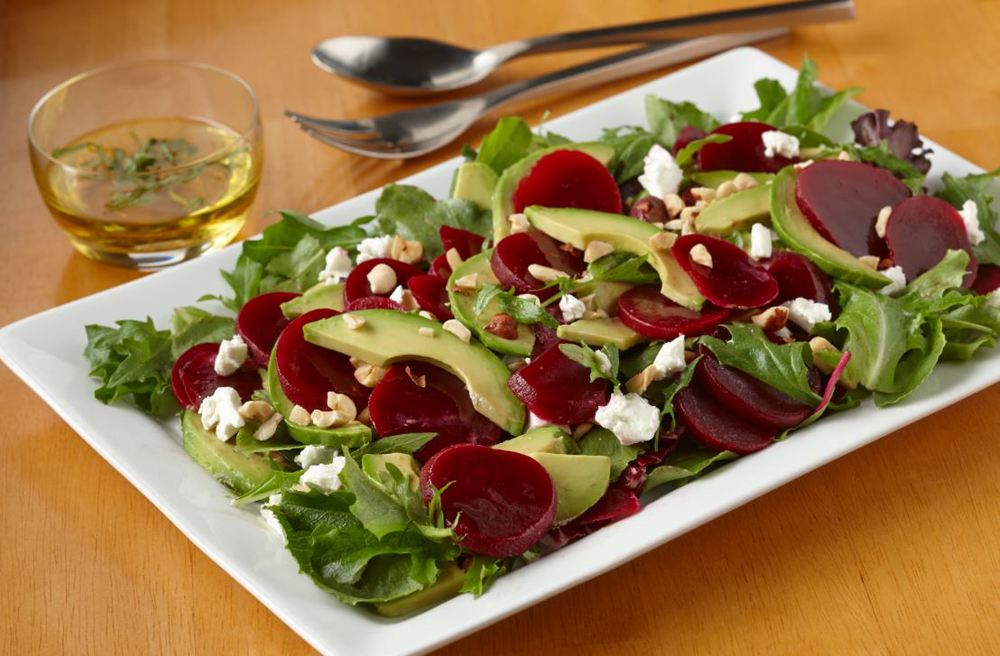 Ingredients
1 jar (16 ounces.) Aunt Nellie's Sliced Pickled Beets
4 cups mixed salad greens
1 small avocado, sliced 1/4 inch thick
2 strips bacon, cooked, crumbled (about 2 tablespoons)
1/4 cup chopped, toasted hazelnuts, almonds or pecans
1/4 cup crumbled goat cheese (optional)
Dressing:
3 tablespoons white balsamic or white wine vinegar
2  tablespoons olive oil
2 tablespoons chopped basil
Directions
Makes 6 servings.
Drain beets.
Place greens on platter. Arrange beets on greens; top with avocado slices.
Sprinkle with bacon, nuts and goat cheese, if desired.
For dressing, whisk together vinegar and oil; add basil. Drizzle over salad, as desired.
Nutrition Information
Nutrition information per serving (1/6 of recipe): 160 calories; 2g protein; 12g carbohydrate; 12g fat; 105mg sodium; less than 5mg cholesterol; 3g fiber; 0.68mg iron; 0.06mg thiamin; 381.61IU vitamin A; 5.5mg vitamin C.