PREP TIME: 20 MINUTES   |   CHILL TIME: 1 HOUR UP TO 24 HOURS
Beet & Broccoli Salad Dijon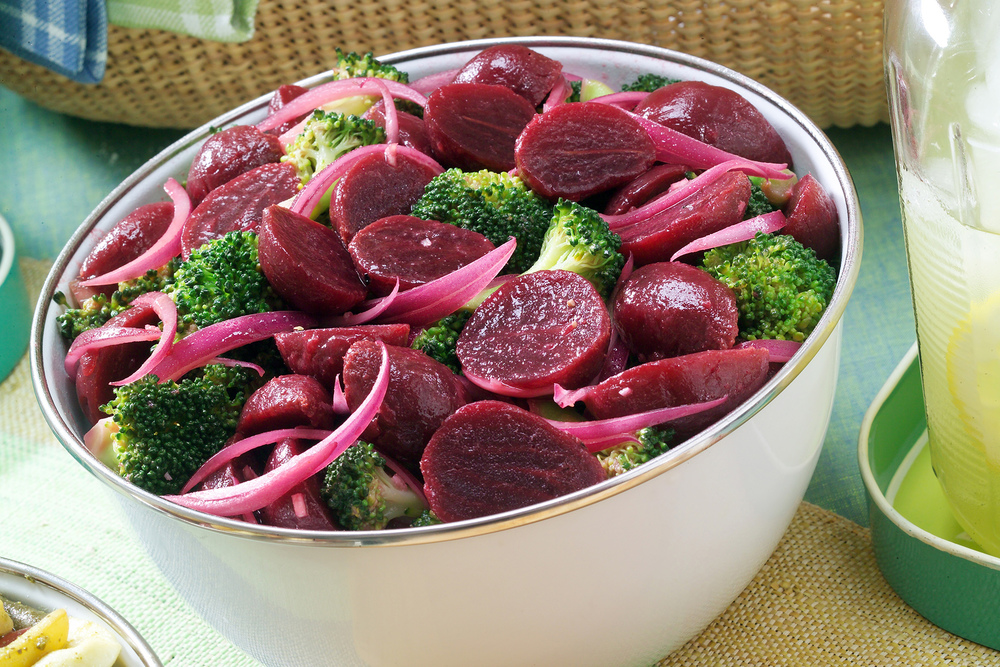 Ingredients
1 jar (16 ounces) Aunt Nellie's Sliced or Whole Pickled Beets
1 tablespoon olive oil
1 tablespoon Dijon mustard
1 small clove garlic, minced
Salt and coarse grind black pepper (optional)
1/4 cup thinly sliced red onion
3 cups broccoli florets, cooked crisp-tender
Directions
Makes 6 servings.
Drain beets; reserve 3 tablespoons beet liquid. Cut whole beets in half. In small bowl, combine beet liquid, olive oil, mustard, garlic and salt and pepper, if desired. Whisk to blend. Stir in onion.
Toss beets with dressing-onion mixture. Refrigerate, covered, to chill. (Make up to one day in advance.)
To serve, add broccoli. Toss gently to combine.
Note
Recipe can be doubled.
Nutrition Information
Nutrition information per serving (1/6 of recipe): 70 calories; 1g protein; 11g carbohydrate; 2g fat; 130mg sodium; 0mg cholesterol; 1g fiber; 0mg iron; 0.0mg thiamin; 1065IU vitamin A; 17mg vitamin C.