PREP TIME: 15 MINUTES   |   COOK TIME: 5 MINUTES
Autumn Beet and Red Cabbage Salad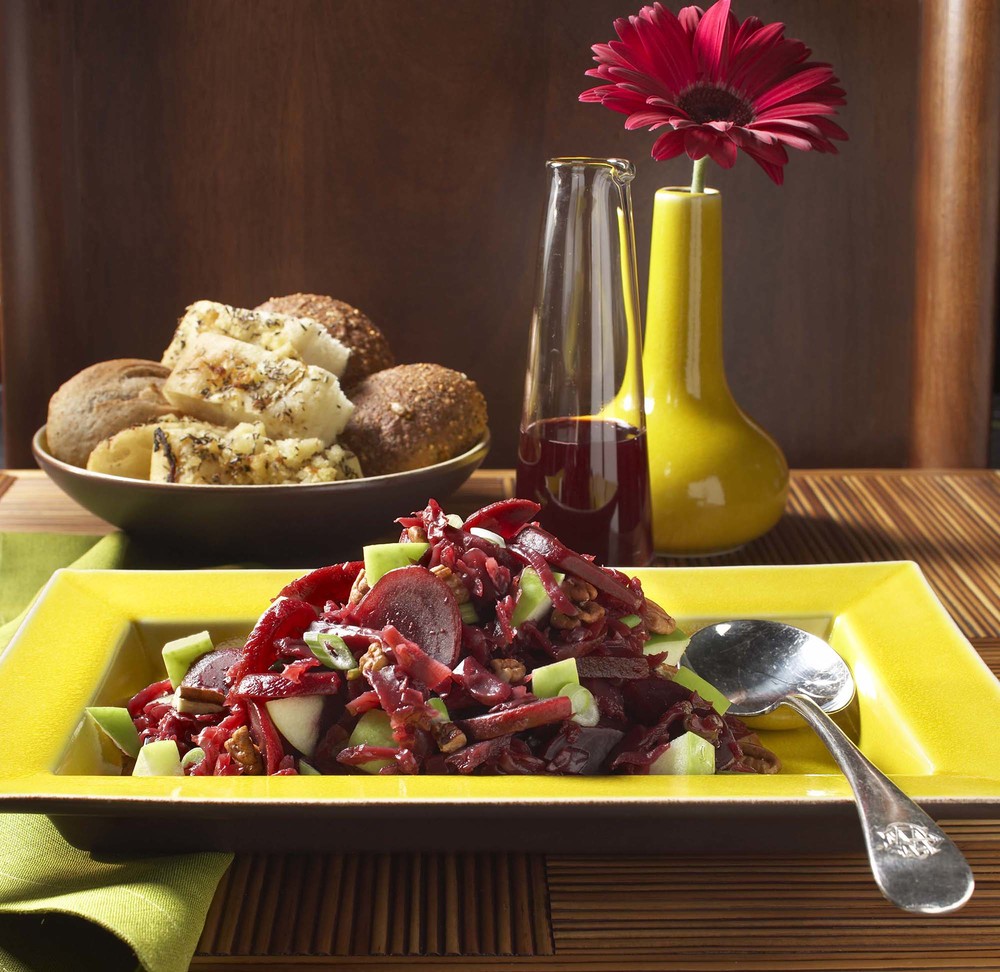 Ingredients
 1 jar (16 ounces) Aunt Nellie's Pickled Beets, whole or sliced
1 jar (16 ounces) Aunt Nellie's Sweet & Sour Red Cabbage
1/3 cup red currant jelly
1/4 teaspoon ground cloves
1/4 cup thinly sliced green onions
1 cup chopped Granny Smith apple (about 1 small apple)
1/2 cup chopped toasted pecans (See Note)
Salt and pepper to taste
Directions
Makes 6 servings (about 3/4 cup each).
Drain beets and cabbage, combining both liquids into small bowl.  Pour 1/2 cup of the combined liquids into a small saucepan; discard remainder.  Add red currant jelly and cloves to saucepan; whisk to combine.  Bring to boil; reduce heat and simmer until liquid is thickened and reduced to 1/3 cup, about 10 minutes.  Cool.
Just before serving stir in apples and pecans.  Season to taste with salt and pepper.
Meanwhile, cut sliced beets in half, or whole beets into wedges.  Toss beets, cabbage and green onions with cooled red currant dressing.
Note
To toast pecans, bake nuts in asingle layer on a rimmed baking sheetin a preheated 350ºF oven until fragrant, about 5 to 8 minutes. Remove from baking sheet and cool.
Nutrition Information
Per serving (1/6 of recipe): 190 calories; 1g protein; 36 g carbohydrate; 7 g fat; 461mg sodium; 0 mg cholesterol; 2 g dietary fiber; 2 mg iron; >1 mg thiamin; 61 IU Vitamin A; 18 mg Vitamin C.