Beet, Shrimp & Avocado Tartine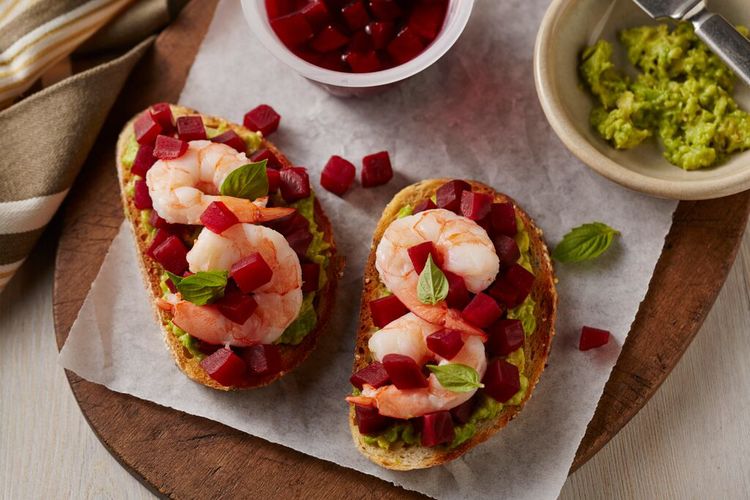 Ingredients
1 single serve cup Aunt Nellie's Diced Pickled Beets
1/2 medium avocado
1 small clove garlic, minced
2 oval slices whole wheat or whole grain bread (approximately 1/2 x 4-inch slice), toasted
4 to 6 cooked small to medium shrimp
Shredded basil
Directions
Makes 1 serving.
Drain beet cup.
Coarsely mash avocado with garlic. Spread onto one side of each toast slice. Top each with equal amounts of diced beets, shrimp and shredded basil, as desired.
Variations
For vegetarian tartine, omit shrimp.
Top with crumbled blue cheese, goat cheese, feta, queso fresco or other favorites.
Top with toasted walnuts, almonds or hazelnuts.
Sprinkle with other herbs, or seasoning such as parsley, chives, smoked paprika, cilantro or minced red onion.
Nutrition Information
Nutrition information per serving: 350 calories; 15g protein; 44g carbohydrate; 13g fat; 660mg sodium; 60mg cholesterol; 9g fiber; 3mg iron; 0.29mg thiamin; 196IU vitamin A; 53mg vitamin C.