PREP TIME: 25 MINUTES   |    COOK TIME: 35 MINUTES
Mini Beet and Carrot Gift Loaves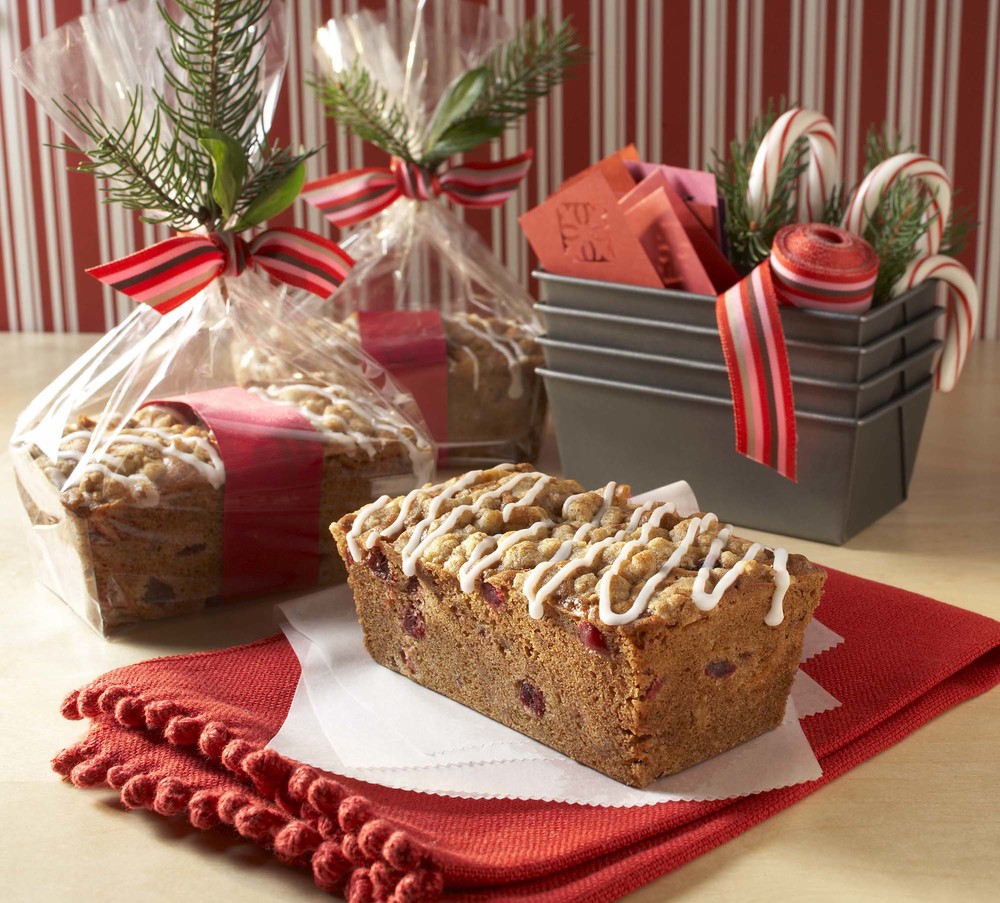 Ingredients
1  jar (16 ounces) Aunt Nellie's Sliced Pickled Beets, drained
1-3/4  cups all-purpose flour
2  teaspoons pumpkin pie spice
1  teaspoon baking powder
3/4  teaspoon baking soda
1/2  teaspoon salt
3/4  cup packed light brown sugar
1/2  cup vegetable oil
2  eggs
3/4  cup shredded carrots
3/4  cup chopped walnuts or pecans
Topping: 
1/4  cup chopped walnuts or pecans
1/4  cup packed light brown sugar
2  tablespoons all-purpose flour
2  tablespoons melted butter
1/2  teaspoon pumpkin pie spice
Glaze (recipe follows)
Directions
Makes 4 loaves (6 servings per loaf).
Chop beets into 1/4-inch pieces; set aside. Preheat oven to 325°F. Spray 4 mini loaf pans or disposable foil pans (about 5 x 3 inches) with nonstick cooking spray.
Combine flour, pumpkin pie spice, baking powder, baking soda and salt in medium bowl; mix well and set aside. Combine brown sugar and oil in large bowl; mix well. Stir in eggs. Gradually add flour mixture; mix well. Stir in beets, carrots and walnuts just until combined. Spoon batter into prepared pans.
Combine topping ingredients in small bowl. Stir until crumbly. Divide evenly over batter in pans.
Bake 35 to 40 minutes or until wooden pick inserted in center comes out clean. Cool in pans 10 minutes. Remove from pans to wire rack; cool completely. (See Note). Prepare Glaze and drizzle over cooled loaves. Store at room temperature up to 3 days. Freeze, unglazed, up to 2 months. Thaw at room temperature and drizzle with Glaze before serving
Note
Not necessary to remove loaves from disposable foil pans to cool, if using.
Glaze: Stir together 1/2 cup confectioners' sugar and 2 to 2-1/2 teaspoons milk in small bowl. Use spoon to drizzle over cooled loaves.
Nutrition Information
Nutrition information per serving (1/6 of loaf): 175 calories; 3g protein; 21g carbohydrate; 10g fat; 14 mg sodium; 20mg cholesterol; 1g fiber; 1mg iron; 631IU vitamin A; 26mg calcium.