PREP TIME: 30 MINUTES | COOK TIME: 15 MINUTES
Herbed Eggplant & Beet Dip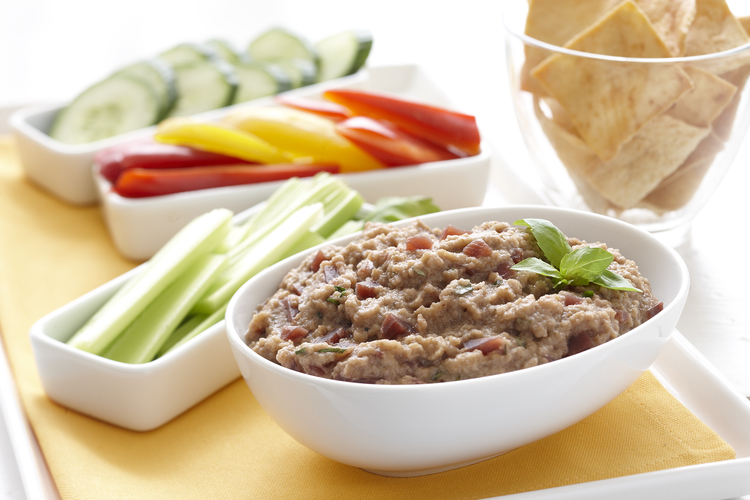 Ingredients
1 jar (16 ounces) Aunt Nellie's Sliced or Whole Pickled Beets, drained
2 tablespoons olive or canola oil
1 medium eggplant (about 1 pound), cut into 1-inch pieces
1 cup chopped onion
3 cloves garlic, sliced
Salt
Coarse ground black pepper
1/2 cup plain nonfat yogurt (Greek or traditional), optional
1/4 cup thinly sliced fresh basil
1 to 2 teaspoons chopped fresh thyme leaves
Directions
Makes 8 servings (approx. 1/4 cup each).
Coarsely chop beets.
In large nonstick skillet heat oil over medium heat until hot. Add eggplant, onion and garlic; cook 15 minutes or until vegetables are tender, stirring frequently. Add water, 1 tablespoon at a time, if mixture seems too dry or begins to stick. Salt and pepper, as desired.
Place eggplant mixture in bowl of food processor; process until mixture is chopped and combined. Measure out 1/2 cup chopped beets; set aside. Add remaining chopped beets to eggplant mixture. Process until dip is desired consistency.
Transfer dip to serving bowl. Stir in yogurt, if desired. Stir in herbs and reserved 1/2 cup chopped beets just before serving. If not served immediately, cover and refrigerate up to 6 hours. Allow to stand about 15 minutes before serving if chilled.
Note
Serve with pita chips, pita wedges, and/or fresh vegetables for dipping.
Nutrition Information
Nutrition information per serving (1/8 of recipe): 80 calories; less than 1g protein;  11g carbohydrate; 4g fat; 50mg sodium; 0mg cholesterol; 2g fiber; .31mg iron; .03mg thiamin; 158.08IU vitamin A; 3.72mg vitamin C.