Bean Salad Stuffed Tomatoes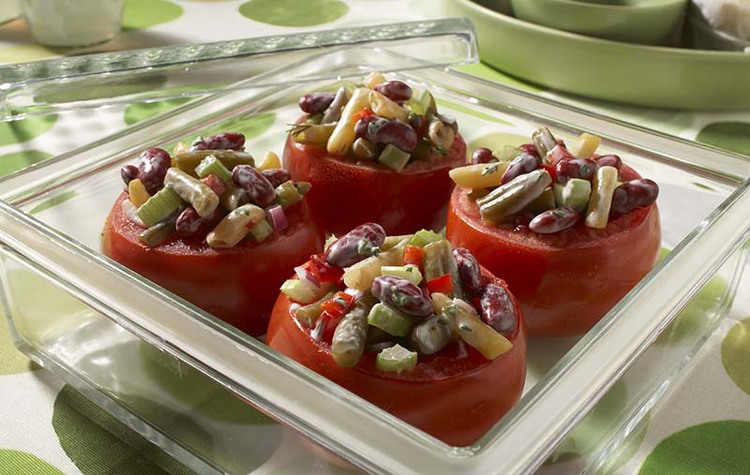 Ingredients
1 jar (15 ounces) Aunt Nellie's 3 Bean Salad
1/4 cup chopped celery
1/4 cup chopped red onion
3 tablespoons chopped red bell pepper
4 large tomatoes (about 1-1/2 pounds)
Dressing:
2 tablespoons light mayonnaise
1 tablespoon buttermilk
2 teaspoons chopped fresh chives
2 teaspoons chopped fresh parsley
1 teaspoon finely chopped fresh dill
Fresh ground black pepper to taste
Directions
Makes 4 servings.
Drain bean salad, reserving 2 tablespoons liquid. Combine bean salad, celery, onion and bell pepper in large bowl; set aside.
 To prepare dressing, whisk together reserved liquid, mayonnaise and buttermilk in small bowl until well blended. Stir in chives, parsley and dill; season with black pepper if desired. Set aside.
Cut and remove 1/4-inch slice from top of tomatoes. Remove seeds and hollow out tomatoes leaving 1/4-inch shell. Invert onto paper-towel-lined plate to drain completely.
Pour dressing over bean salad mixture; toss gently to coat. Store tomato shells and bean salad separately up to 4 hours before serving. When ready to serve, stir bean salad to coat with dressing. Divide bean salad mixture equally amoung tomato shells.
Note
Recipe can be doubled.
Nutrition Information
Nutrition information per serving (1/4 of recipe): 140 calories; 3g protein; 26g carbohydrate; 3g fat; 445mg sodium; 3mg cholesterol; 5g fiber; 6mg iron; 0.1mg thiamin; 1880IU vitamin A; 42mg vitamin C.