PREP TIME: 30 MINUTES | COOK TIME: 15 TO 20 MINUTES
Recipe courtesy of Momma Cuisine
Orange Galette With Beet Gorgonzola Salad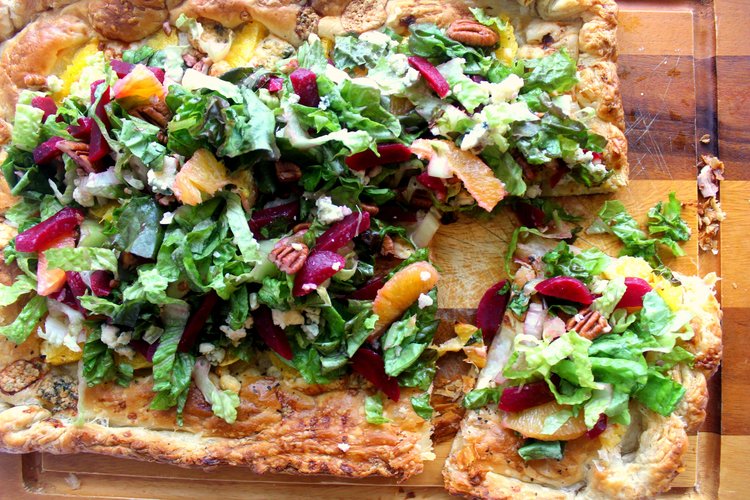 Ingredients
1 jar (16 ounces) Aunt Nellie's Sliced Pickled Beets
1 sheet frozen puff pastry, approximately 16 x 11 inches (see note)
1 tablespoon olive oil, divided
4 Navel oranges, segmented
4 ounces crumbled Gorgonzola or other blue cheese, divided
1/4 teaspoon kosher salt (optional)
1/4 teaspoon dried basil
2 cups mixed baby salad greens
1/4 cup chopped pecans, toasted if desired
Directions
Makes 12 servings.
Heat oven to 400°F.
Drain beets well; set aside on paper towels to absorb any remaining liquid. Discard liquid or save for another use.
Spray large sheet pan with nonstick cooking spray. Gently place puff pastry sheet on pan. With pastry brush, gently spread half of olive oil on pastry sheet. Place about half of orange segments in two rows on top of pastry sheet, leaving 1-inch margins on all sides.
Fold up edges of pastry sheet to create border. Sprinkle half of crumbled Gorgonzola over oranges. Sprinkle with salt, if desired, and basil.
Bake until golden brown, about 15 to 20 minutes; watch carefully, as different brands of puff pastry may have different cooking times. Remove from oven; cool on wire rack.
Meanwhile, coarsely chop beets. In large bowl, toss together remaining orange segments, mixed greens and chopped beets. Drizzle with remaining olive oil; toss gently to combine.
Cut cooked galette into 12 pieces. Top with beet salad. Sprinkle with remaining cheese and the pecans.
Note
If your puff pastry sheet is a different size, adjust accordingly. For example, if your sheet is 9-1/2 x 11, gently roll it out with a rolling pin to approximately 16 x 11 inches. If your pastry sheet is a 9-1/2-inch square, use two squares.
Nutrition Information
Nutrition information per serving (1/12 of recipe):  180 calories; 4g protein; 18g carbohydrate; 11g fat; 220mg sodium; 10mg cholesterol; 2g fiber; 0.80mg iron; 0.05mg thiamin; 329.89IU vitamin A; 14.31mg vitamin C.