PREP TIME: 30 MINUTES   |   COOK TIME: 15 MINUTES
Rustic Vegetable-Beet Soup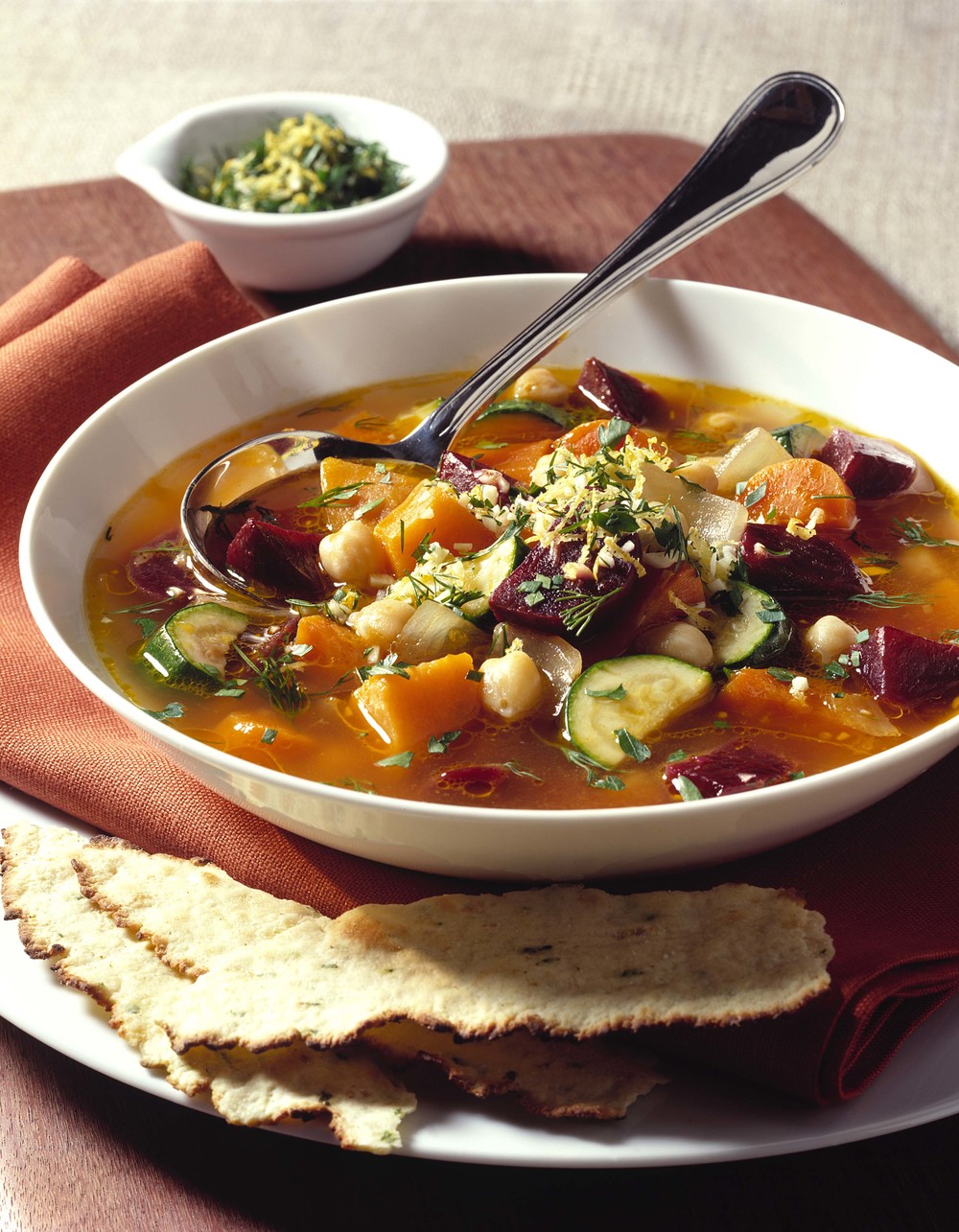 Ingredients
1 jar (16 ounces) Whole Pickled Beets, well drained
2 tablespoons olive oil
2 medium onions, coarsely chopped
2 medium carrots, coarsely chopped
1 medium sweet potato, peeled and chopped
2 large cloves garlic, minced
2 zucchini (about 5 ounces each), coarsely chopped
2 cans (about 14 ounces each) vegetable broth
1 teaspoon seasoned salt, optional
1 can (15-1/2 ounces) chickpeas, drained and rinsed
Salt and pepper
2 tablespoons each finely chopped fresh parsley and dill
Gremolata (recipe below), optional
Gremolata Ingredients
1 tablespoon each: minced fresh parsley and dill
2 cloves garlic, minced
1 teaspoon grated lemon peel
Directions
Makes 6 servings.
Coarsely chop beets; set aside.
In large saucepan, heat oil over medium heat. Add onions; sauté about 5 minutes or until softened. Add carrots, sweet potato and garlic. Sauté 3 to 5 minutes or until vegetables begin to soften, stirring occasionally.
Add zucchini, broth and seasoned salt, if desired.  Bring to a boil.  Reduce heat and simmer, partially covered, about 15 minutes or until vegetables are tender.  Add chickpeas; heat through.  Season to taste with salt and pepper, as desired.
Stir in parsley and dill.  Stir in beets.  Serve immediately topped with gremolata, if desired.
Nutrition Information
Nutrition information per serving (1/6 of recipe): 220 calories; 6g protein; 34g carbohydrate; 6g fat; 620mg sodium; 0mg cholesterol; 6g fiber; 2mg iron; 0.13mg thiamin; 6981IU vitamin A; 8mg vitamin C.