READ® Salads & Aunt Nellie's® Are Making it a CAN-DO Summer!
This is it. The summer we've been waiting for – the summer where we CAN DO all the things we've been missing; with all the people we've been missing.  From driving to the beach to flying cross country; camping in a national park or catching a fly ball at a Major League ballpark; attending major concerts with friends or a wedding with the entire family.  We can now do it all!
READ Salads and Aunt Nellie's want to help you make the most of this epic summer with prizes and delicious recipes for perfect food pairings to match your summer CAN-DO list.
Congratulations to Leisha S from Texas, who is the final winner in the "CAN-DO Summer" giveaway! Leisha wants to do a little "dancing under the stars" this summer and as the song says, "The stars at night are big and bright … deep in the heart of Texas!"  Leisha will be receiving a case each of products from READ Salads and Aunt Nellie's as well as a $50 gift card.
While Leisha gets her dancing shoes out, we'll share two recipes that can turn any summer night into a celebration that calls for dancing.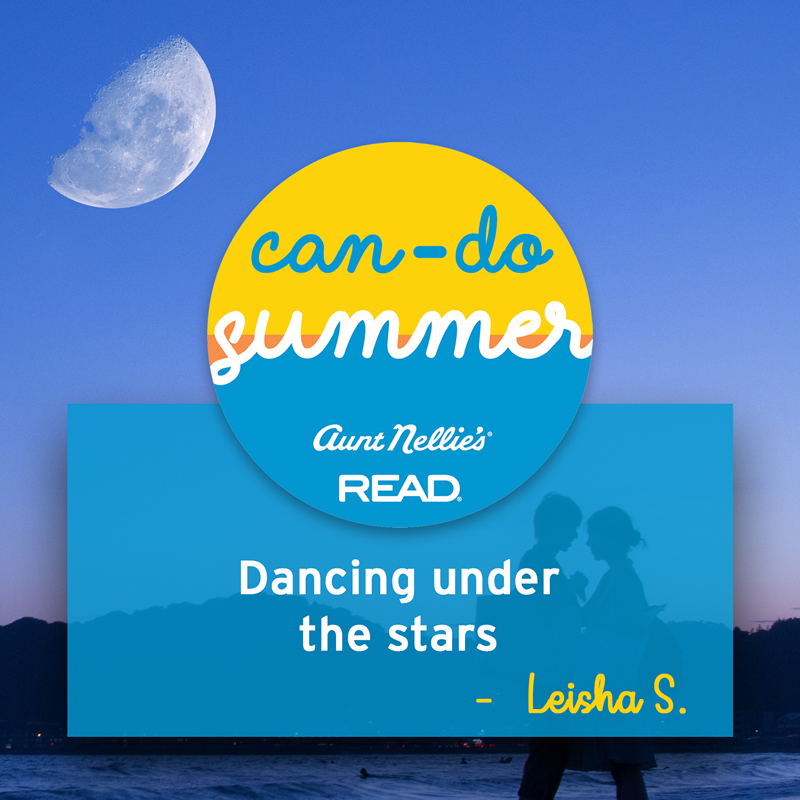 Our Suggestions for a Summer Night Under the Stars
There's something special about enjoying great food and drinks al fresco, and when you're doing it under a star-lit sky on a clear summer night, everything seems to taste better. Try out this fun summer cocktail from Aunt Nellie's and then tuck into a steak dinner made delicious with READ 3 Bean Salad.
(makes 4 servings)
Get the party started right with a round of Shaken Beet Margaritas, which are as delicious as they are beautiful! Tequila comes together with the gorgeous fuschia liquid from a jar of Aunt Nellie's pickled beets, a splash of club soda and a hit of fresh lime juice for a cocktail that says "let's dance!
(makes 6 servings)
Savory steak tops an abundant pile of tangy green arugula and it's all pulled together with the bright flavor and toothsome texture of READ 3 Bean Salad and a zingy lemon vinaigrette. (Pro tip: can also add your own flair by grilling the steak instead of pan-cooking it if you like.) This dish feels like a fancy night out!
And while our list of weekly winners is now complete, there will be new opportunities to win coupons for READ Salads and Aunt Nellie's vegetables.  Follow the brands on Instagram and Facebook, where you can help us identify the absolute most popular CAN-DO activities for summer, culled from the nearly 35,000 entries we received for the "CAN-DO Summer" giveaway.  There are still weeks and weeks left to enjoy summer, so make the most of it while you can!
Take a look at some other fantastic CAN-DO summer activities that were shared.
A summer road trip through the southwest.
Michelle R
I CAN make a difference this summer. I have been volunteering at our local homeless shelter twice a month and helping to serve dinner and donate time and money to make a difference!
Alana N
Beach day with the grandkids.
Vickie W
Camping and spending time with Family and Friends,eating some good food!
Mary M
We are teaching our boys how to play T-ball and baseball! They have been so excited to learn!
Megan A
Visiting friends and family I haven't seen in over a year!
Rose P
Visit an ole' college buddy.
Jesse E
The activity at the top of my CAN-DO list is family get-togethers. My state is opening up more and more after the virus and I want to get back to having more family get-to-gathers.
Barbara C
Take my little one to the Wisconsin state fair for the first time!
Monika M
Sunrise walks on the beach hunting for shark teeth!
Elena G
Start going back to the gym now that I'm vaccinated.
Patty M
Start buying trendy clothes again since I will be going out.
Jackeline B
Spending time with my mother who I haven't seen in 1 1/2 years.
Michele G
Seeing my brother for the first time since the pandemic.
Brenda K
See friends I haven't seen in over a year.
Zenna W
Reunite with extended family.
Leola J
My favorite summer activity is taking my two kids hiking around my house. I put my 6 month old in a carrier and my two year old walks. We find a lovely spot and have a little picnic.
Christal T
Learn something new! I'm nearly forty and will start learning jujitsu.
Neil R
Hiking the local trails with my family
Tamara R
Have a gathering of friends and family after the long pandemic separation!
Judy N
Hanging out at the cabin with friends.
Kari
Going to Yellowstone National Park cannot wait to see the park's beauty and take a lot of pictures.
Jayne H
Going to Spokane, WA, to meet and greet the birth of my grandchild.
Edward O
Getting a drink with friends at a Sports Bar.
Leon K
Get together for picnics, parties, anything to be with family and friends.
Marymargaret W
Get back together with our special Olympic athletes who have been wanting to have in-person practices!
Anita K
Flying to VA to see my daughter.
Laura H
Finally getting back on the ice to play women's ice hockey with my friends!
Judith B
Explore local areas that are new to me since I recently moved to a new state and last year I was unable to explore due to Covid.
Dorothy S
Epic trip to GA to see my bestie and her family.
Tracie C
Drive up the California Coast…Los Angeles to Big Sur.
Anna A
Doing all the things I could not do because of Covid.
Maria C
Definitely to take my daughter on a trip to splash lagoon finally
Nina D
Creating a show-stopping flower bed!
Gaye W
Climbing a peak in Glacier National Park!
Cassie V
Camping with my grandkids. It is my favorite summer activity. I absolutely love the time we spend in the great outdoors together no phones no tvs or video games just family time. It is wonderful to spend that time with them.
Tina B
A first time road trip with my younger sister! Going to Texas to visit long distance relatives! She lives in Colorado and just retired from school teaching this year so she finally has time to go. I live in Utah and retired 1 1/2 years ago from being a Physical Therapist for 42 years! We felt like Thelma and Louise but without the movie ending! Looking forward to southern food, friends, and activities!
Patricia P
Besides teaching our boys to play baseball..I will be spending lots of time floating in the pool!
Megan A
At the top of my CAN DO list is completing my garden.
Brenda K
A major road trip to our National Parks.
Betty K
A lakeside reunion with friends from all over the country.
Marlene S
A beach vacation – finally!
Rick C