PREP TIME: 20 MINUTES | COOK TIME: 13 TO 15 MINUTES
Nutty Orange-Glazed Beets and Sweet Potatoes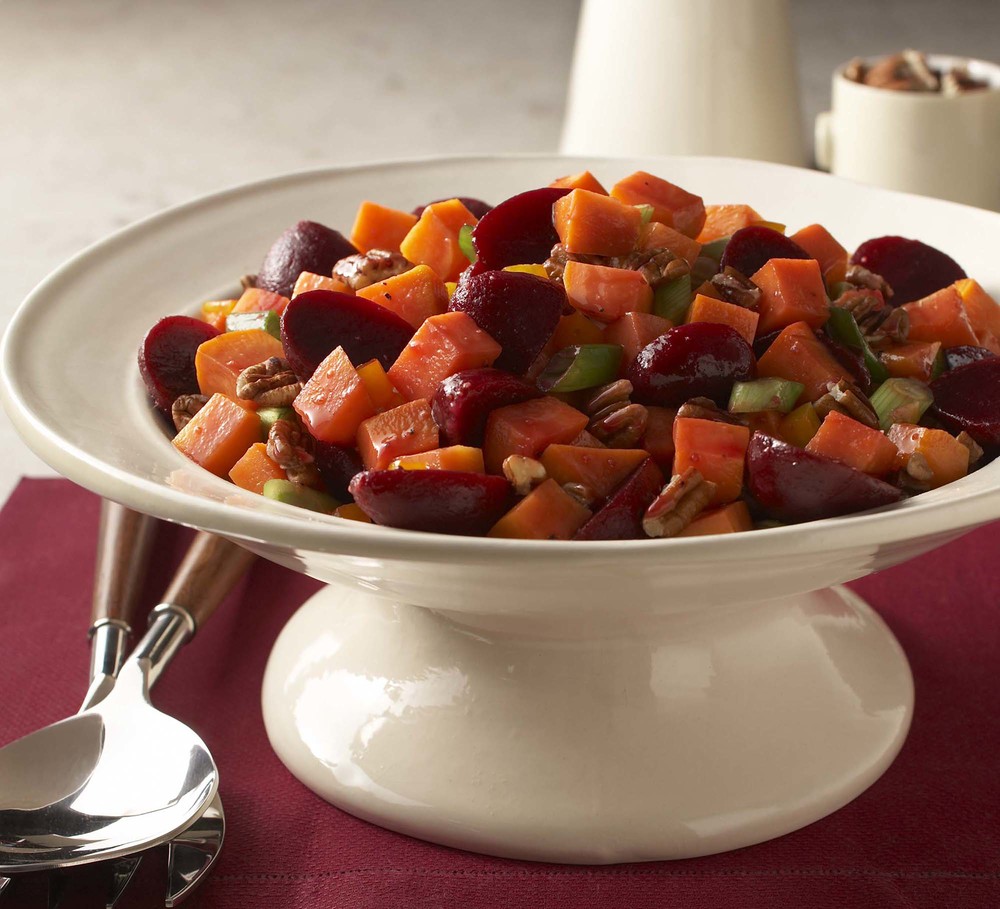 Ingredients
1 jar (16 ounces) Aunt Nellie's Whole Pickled Beets
2 cups chopped, peeled raw sweet potato (1/2-inch pieces)
1 cup orange juice, divided
1/2 cup chopped yellow bell pepper
4 green onions, sliced 1/2 inch thick (including greens)
1/8 teaspoon salt
1/4 cup pecans, toasted
Black pepper to taste
Directions
Makes 6 servings.
Drain beets; reserve 2 tablespoons beet liquid. Cut beets into halves; set aside.
Heat sweet potatoes and 3/4 cup orange juice in large nonstick skillet over medium-high heat. Bring to a boil; cover and reduce heat. Simmer 8 to 10 minutes or just until potatoes are tender. Stir in bell peppers. Remove from heat; stir in green onions. Place mixture in a shallow serving bowl; add beets.
In same skillet, combine reserved 2 tablespoons beet liquid, remaining 1/4 cup orange juice and salt. Bring to a boil over medium heat; boil about 3 to 5 minutes or until slightly thickened and syrupy. Spoon over beet mixture, tossing lightly. Sprinkle with pecans. Season with black pepper, if desired. Serve immediately.
Nutrition Information
Nutrition information per serving (1/6 of recipe): 130 calories; 2g protein; 24g carbohydrate; 4g fat; 330mg sodium; 0mg cholesterol; 2g fiber; less than 1mg iron; less than 1mg thiamin; 6449IU vitamin A; 129mg vitamin C.