PREP TIME: 15 MINUTES | COOK TIME: 13 TO 15 MINUTES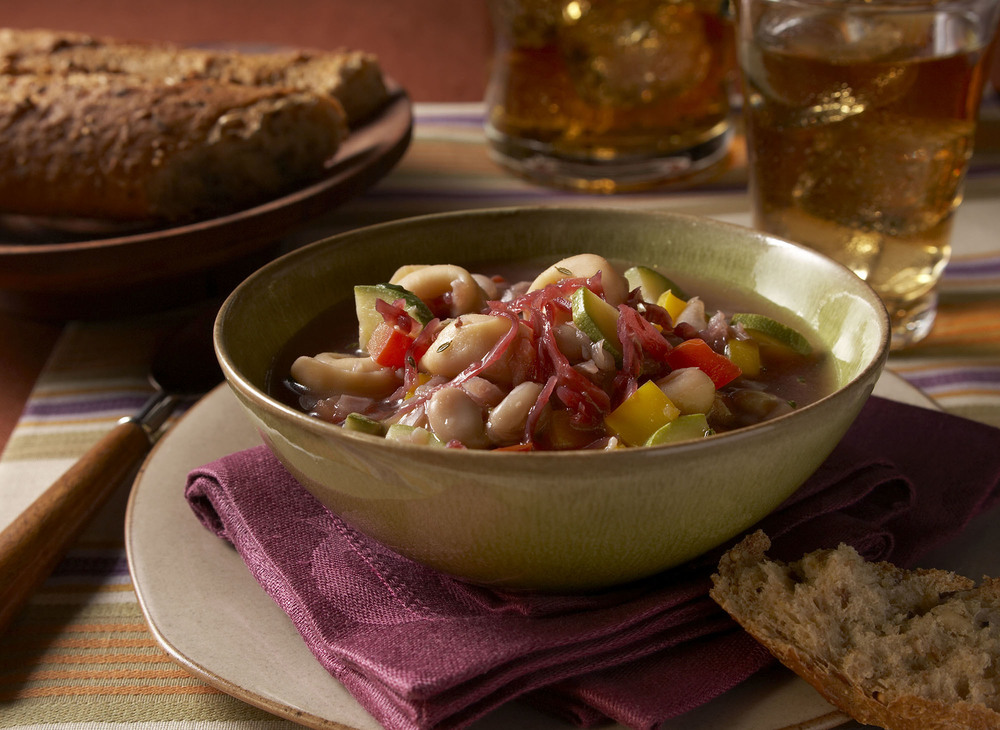 Ingredients
1 jar (16 ounces) Aunt Nellie's Sweet & Sour Red Cabbage
2 teaspoons olive oil
1 medium bell pepper, diced, about 1/2-inch
2 teaspoons chopped fresh thyme
2 cloves garlic, finely chopped
1 quart (4 cups) chicken or vegetable broth
2  cups water
1 cup dried cheese tortellini
1 can (about 15 ounces) great Northern (or other white) beans, drained and rinsed
1 medium zucchini, quartered lengthwise, then sliced 1/4 inch thick
1 small tomato, chopped
Salt and black pepper, to taste
Shredded Parmesan cheese (optional)
Directions
Makes 6 servings (about 1-1/2 cups each).
Drain cabbage well (reserving liquid).  Set cabbage and liquid aside.
Heat oil in large (4-1/2 quart) pot.  Cook bell pepper, thyme and garlic 3 to 5 minutes, until pepper begins to soften.  Add broth, water, tortellini, and beans; bring to boil.  Reduce heat and simmer, partially covered, 5 minutes, stirring occasionally.
Add zucchini and continue simmering, partially covered, until zucchini and tortellini are just tender, about 5 minutes.  Stir in cabbage, 2 tablespoons reserved cabbage liquid and tomato; add salt and pepper.  Sprinkle with Parmesan, if desired.
Nutrition Information
Nutrition information per serving (1/6 of recipe): 190 calories; 35g carbohydrate; 9g protein;  3g fat; 1100mg sodium; 10mg cholesterol; 5g fiber; 2mg iron; 0.2mg thiamin; 317IU vitamin A;  31mg vitamin C.