PREP TIME: 15 MINUTES | COOK TIME: 20 MINUTES
Bacon-Apple Red Cabbage Soup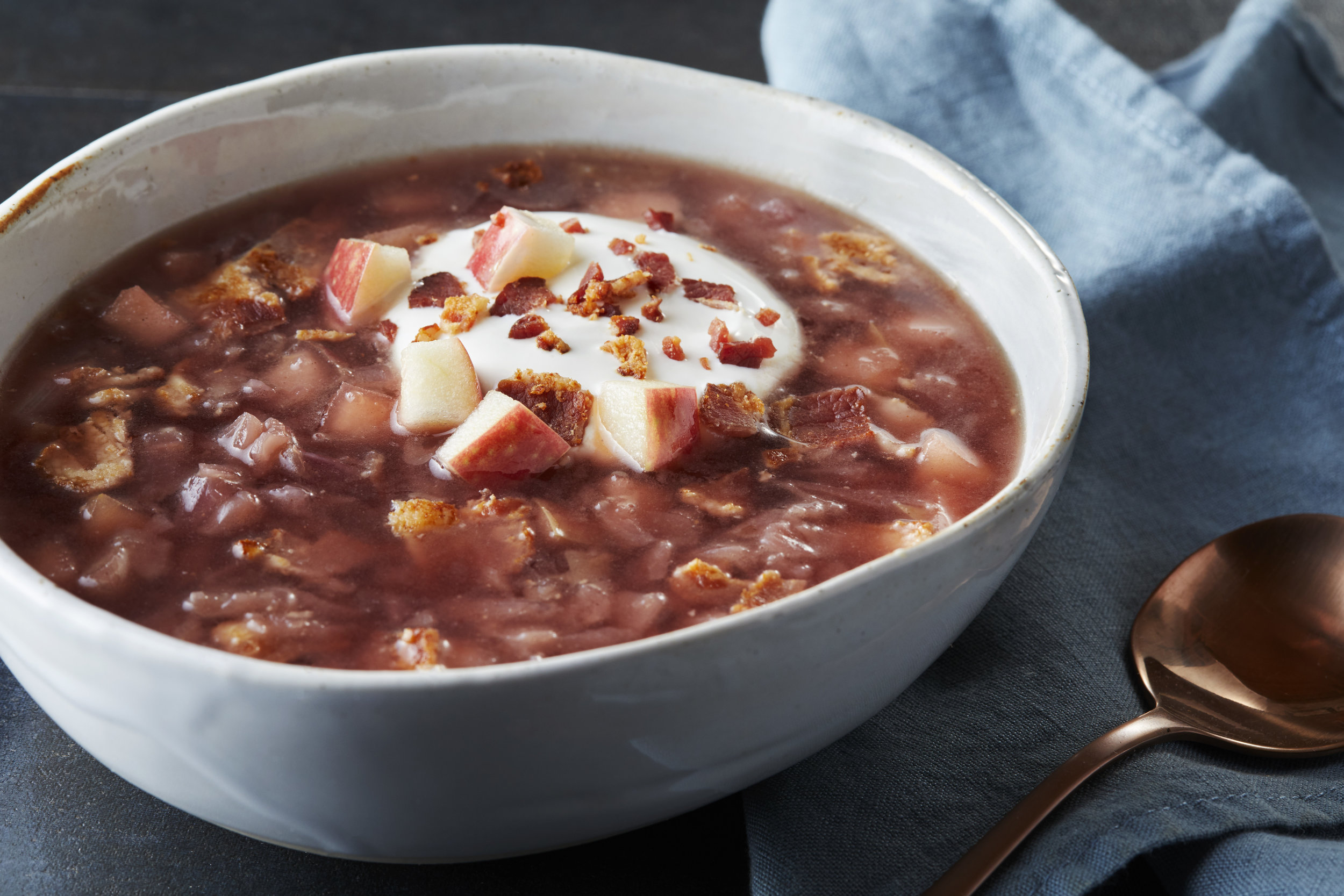 Ingredients
1 jar (16 ounces) Aunt Nellie's Sweet & Sour Red Cabbage, not drained
2 slices thick-cut bacon, chopped
1 medium red onion, chopped (about 1/2 cup)
1 clove garlic, minced
2 cups low-sodium, fat-free chicken or vegetable broth
1 medium apple, chopped (about 1 cup)
1/4 teaspoon ground cinnamon (optional)
1/8 teaspoon ground allspice (optional)
1/8 teaspoon ground cloves (optional)
Chopped apple (optional)
Plain yogurt or sour cream (optional)
Crumbled cooked bacon (optional)
Directions
Makes 4 servings.
Cook bacon in large saucepan or Dutch oven over medium heat 2 to 3 minutes or until cooked through and crisp. Remove bacon from skillet; reserve. Drain drippings; return 1 tablespoon drippings to pan; discard remaining drippings.
Add onion to pan. Cook about 2 minutes, until tender, stirring frequently. Add garlic; cook and stir about 30 seconds. Add red cabbage and liquid from jar, broth and 1 cup chopped apple. Stir in cinnamon, allspice and cloves, if desired. Bring to boil. Reduce heat and simmer, covered, 10 minutes. Add water, 1/2 cup at a time, if soup is too thick. Add bacon to pan. Continue simmering, uncovered, about 5 minutes until apples are tender and soup is desired consistency.
Spoon soup into serving bowls. Garnish with chopped apple, yogurt and crumbled bacon, if desired.
Nutrition Information
Nutrition information per serving (1/4 of recipe): 170 calories; 3g protein; 27g carbohydrate; 6g fat; 500mg sodium; 10mg cholesterol; 1g fiber; 0.42mg iron; 0.02mg thiamin; 21.32IU vitamin A; 6.62mg vitamin C.