Beet Pancakes with Beet-Berry Syrup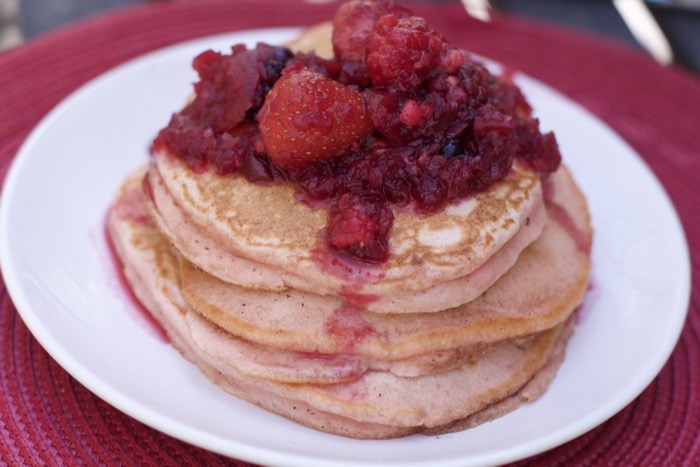 Ingredients
1 jar (15 ounces) Aunt Nellie's Sliced Beets, divided
2 cups all-purpose flour
1/4 cup sugar
2 teaspoons baking powder
1/8 teaspoon salt
1-1/4 cups milk, divided
2 eggs lightly beaten
2 tablespoons unsalted butter, plus extra for cooking
Directions
Makes 16 pancakes (about 3 per serving).
Drain beets; reserve beet liquid. Set aside.
In large bowl, stir together flour, sugar, baking powder and salt.
Place 1 cup of the beets in food processor. Reserve remaining beets for Beet-Berry Syrup. Add 1/2 cup of the milk. Process until mixture is pureed. Add eggs; pulse one or two times, or until eggs are mixed in.
Add beet puree, eggs, melted butter and remaining 3/4 cup milk to flour mixture. Stir just until ingredients are combined; some small lumps may remain. (Add additional milk 1 tablespoon at a time if batter seems too thick.)
Heat lightly buttered griddle or large non-stick skillet until hot, about 325°F for griddle or medium-low to medium heat for skillet. Using 1/4 cup measure, pour batter onto griddle or skillet, spreading batter if needed. Cook about 2 to 3 minutes per side, turning pancakes when edges look slightly dry. Serve with Beet-Berry Syrup. (Recipe follows)
Nutrition Information
Nutrition information per serving (1/16 of recipe):  110 calories; 3g protein; 17g carbohydrate; 3g fat; 100mg sodium; 30mg cholesterol; 1g fiber; 0.84mg iron; 0.13mg thiamin; 114.29IU vitamin A; 0.04mg vitamin C.
Ingredients
Beets reserved from pancakes
1-1/2 cups frozen mixed berries
1/4 to 1/2 cup maple syrup
1/4 cup reserved beet liquid
1 teaspoon lemon juice
Dash salt
Directions
Makes 1 cup (1 to 2 tablespoons per serving).
For Beet-Berry Syrup, either by hand or in food processor, chop remaining beets into small pieces.
In medium saucepan, combine chopped beets, frozen berries, syrup, beet liquid, lemon juice and salt. Bring to boil; reduce heat and simmer about 5 minutes or until thickened as desired. Cool slightly before serving, Syrup can be made ahead and reheated.
Nutrition Information
Nutrition information per serving (1/16 of recipe):  20 calories; less than 1g protein; 6g carbohydrate; 0g fat; 15mg sodium; 0mg cholesterol; 0g fiber; 0.19mg iron; 0mg thiamin; 18.70IU vitamin A; 5.35mg vitamin C.